November 9th, 2013
Chocolaty Banana Cookies
Ich muss zugeben, dass es hier in letzter Zeit ziemlich ruhig ist. Es ist zwar nicht toll, aber es gibt einfach ab und zu Sachen im Leben 1.0, die eine höhere Priorität haben. Aber nächste Woche ist es geschafft und dann kann ich mich endlich wieder mit großer Leidenschaft meinem Blog widmen. Ich habe schon so viele tolle Sachen nebenher vorbereitet oder gesehen, da gibt es hier in nächster Zeit einiges zu berichten 🙂
Although I am just pretty pressed for time, I had spontaneously desire to bake something today. You finally can not always sit in front of the PC and only work yes. Now and then clicking some games on Facebook over and discovered as much good stuff. For example delicious chocolate banana cookies. Karen of Karens Backwahn she has posted yesterday on her blog and put a picture of it on the internet. The looked so delicious that I quickly looked into my cupboards, if everything was there to nachzubacken this. Cookies go so very fast and you do indeed now and then some distraction 😉 Since not enough honey in the house was, I had to improvise a bit and have the recipe slightly adjusted. The result is nevertheless become very tasty.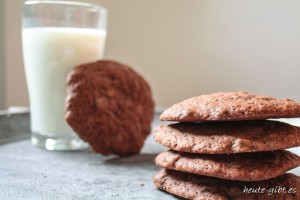 Chocolaty Banana Cookies
Ingredients

: (For about 12 pieces)
125g soft butter
165g sugar
1EL Honig
2TL Ahornsirup
eine Jack Salz
1 Päckchen Vanille Zucker
1 egg
1 reife Banane
215g Mehl
15g invitation
1 gestrichener TL Backpulver
100g chocolate droplets
Preparation

:
Preheat oven to 175 ° (top and bottom heat)
The soft butter with an electric mixer beat until it takes on a lighter color.
Place the sugar, vanilla sugar, salt, honey and maple syrup to the butter and mix well.
The egg and cook mix well.
Now peel the banana, mash with a fork and mix in well.
The flour, cocoa and baking powder, and sieved to add dough. The dough continue stirring until a homogeneous mixture is obtained.
The chocolate drops with a spatula fold in the cookie dough.
To form the cookies, you take the best always tablespoon, a portion of dough, shaping it into a ball and places it on a lined baking tray. Now the hands slightly with flour and press the balls are slightly flattened.
Important: Make sure that cookies between the sufficient distance is left as a spongy nice when baking.
The cookies are baked for about 12 minutes in the oven. Then you lay the cookies on a cooling rack on top, as they are initially quite soft. But do not worry, after cooling they have just the right consistency and taste really delicious 😉
Who does not have maple syrup on hand, this can be as in Recipe from Karen replace it with an additional spoonful of honey.
Well, then it's back to work. I wish you a nice weekend and if you have just like me a lot to do: Cookies always go 😉

Greetings
Elena