February 18th, 2019
Werbung
Pork fillet on potato and apple puree with apple and celery salad
[This post contains advertising]
How about a glass of white wine to set the mood for this post? Today, there are in fact a delicious meat dish that from the star chef Maria Great in the Youtube series Wine Chefs was done at a certain gray burgundy. As it were wine pairing in the reverse variant 😉
Wine Chefs – Top chef meets winemakers
Do you know already the Youtube series "Wine Chefs" of wine lovers? If not, you are but a great wine lover or food enthusiast, then this format is very likely interested. In this series, a professional chef visited a winery, tried on his estate for the first time a premium wine and then has the task of creating a dish suitable for this purpose. exciting to learn Mega thoughts of the cook in this process and to see how, step by step a harmonious court arises.
For those who now think that a web series quality can not compete with a television series, I have great information: Wine Chefs is produced really high in my opinion (incidentally from the same creators as "Kitchen Impossible") And can really be proud of. Here you not only get an insight into the creation process of the court, but also from the winery and the personal story of the winemaker.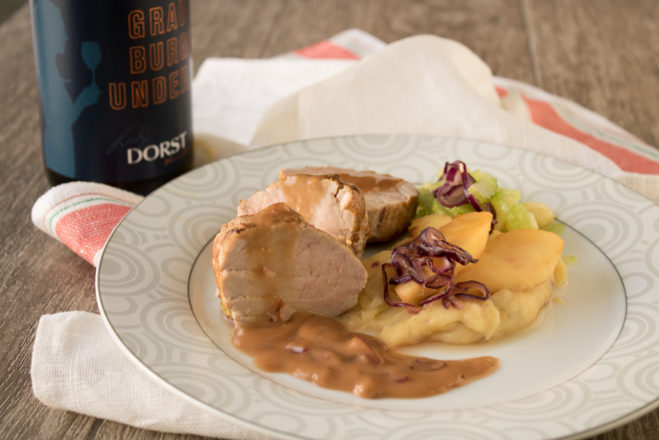 The "Lady Dorst Grauburgunder 2017"
In the latest series of Wine Chefs is called for Girl Power, because it goes along with the star chef Maria Great to Wörrstadt to Winzerin Judith Dorst-Fissler and the winery Dorst. In this episode I was particularly pleased, as I am a big fan of Maria big and especially love not only their nature and hearty laugh, but its simple and hearty cuisine. It is one of the chefs who do not require Chichi to create a great dish.
Ms. Dorst-Fissler chose a dry white wine for this series, the Lady Dorst Grauburgunder, This comes along in a very elegant, slender bottle and impresses with its aroma of yellow fruits such as quince and apricot. A slight acidity makes the wine overall very round and makes this drops the perfect choice for a relaxing evening with friends. What is important is, as usual for whites to serve this cold, in this Pinot Gris a temperature 6-8 ° C would be ideal to develop the full flavor.
The Court of wine
Maria Groß kombinierte zum Wein ein Gericht mit Schweinefilet. Dieses Gericht habe ich minimal nach unserem persönlichen Geschmack abgewandelt. Wir sind leider keine Fans von Blutwurst, weshalb ich diese beim Püree einfach weggelassen habe. Zusätzlich habe ich statt Portwein einen Marsala benutzt, den hat man als Italienerin einfach immer im Haus 😉
Overall, I find the Court succeeded and also match the Lady Dorst. I must admit that I first found to give the idea of ​​wine in the puree irritating. Testing you out easily with the crowd zoom and see what best suits you here. but it's definitely worth a try! By the way, in my opinion, the raw vegetable salad of celery and apple worth it. This I really personally found this fact very consistent and it brings the freshness in the whole court.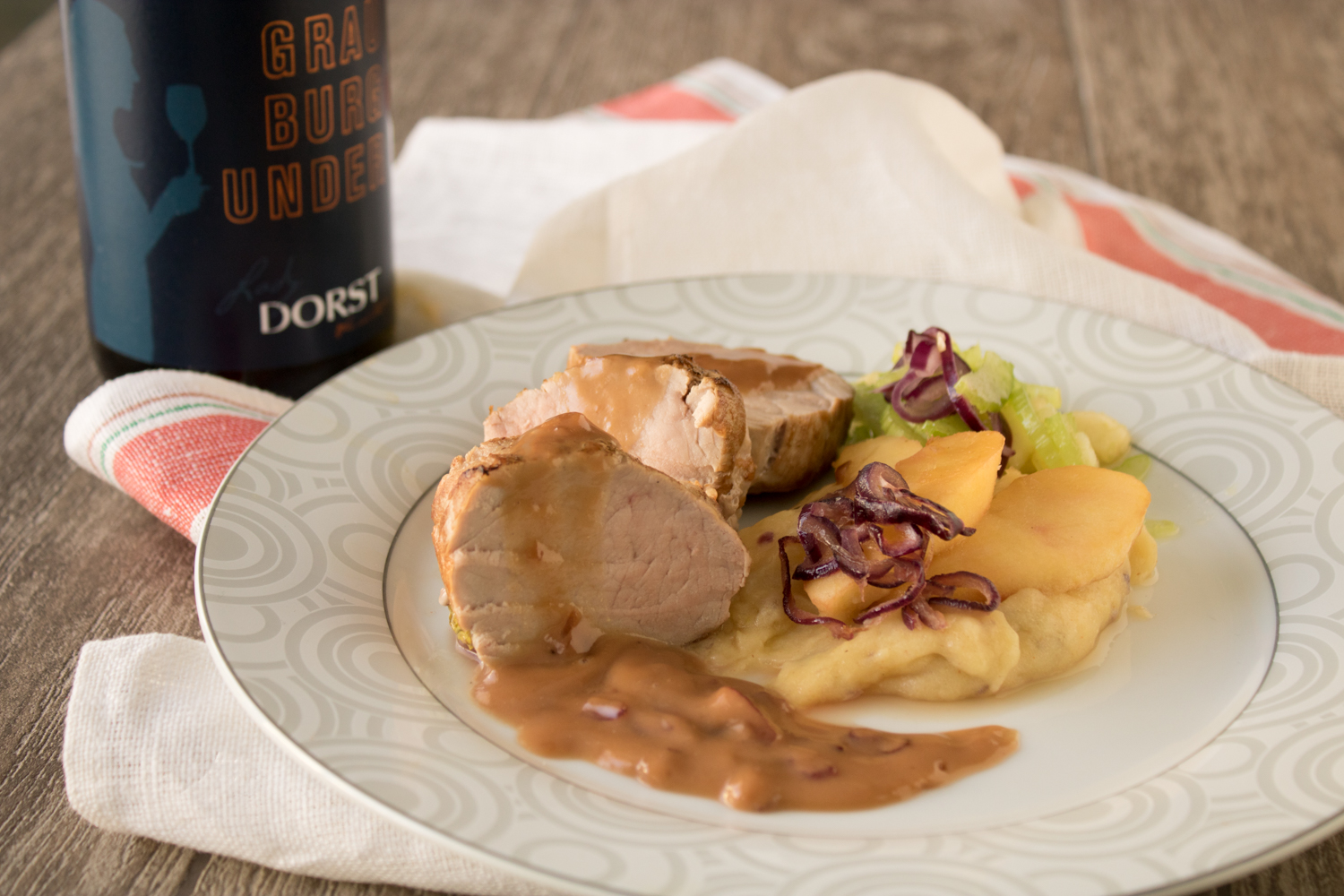 recipe
Pork fillet on potato and apple puree
Total time
45min
Pork with potato and apple puree and apple and celery salad
Ingredients

: (For 2 people)

For the pork:
300g fillet bills
Green celery ½ celery
1 clove garlic
1 red onion
150ml Marsala (alternative port)
EL ½ Senf
1 The Quitten-Gelee
50ml Sahne
Beer
Salt
For the potato and apple puree:
2 large, floury potatoes
1 red onion
1 apple
½ vanilla pod
some cream (about 20 – 50ml)
a shot or as desired, more Pinot Gris
Beer
Salt
nutmeg
Cayennepfeffer
For the apple and celery salad:
2 apples
½ celery
20g walnuts
vinegar
Beer
Salt
Preparation

:

Pork tenderloin:
Sear the pork fillet with a little oil in a pan sharply on all sides.
peel the garlic clove, cut in slices and place together with the celery leaves and the fillet in an oven dish and initially at 150 ° C for 5 minutes and then at 95 ° C for 30 minutes passed.

(Upper and lower heat)

Meanwhile peel the onion, cut into thin slices and in the pan in which the meat was browned before stewing.
The onions with the Marsala deglaze, stirring until it is almost evaporated.
Now stir in the mustard and the quince jelly and deglaze with cream. The sauce can slightly boil and season with salt.
Potato and apple puree:
Peel the potatoes and a pan of lightly salted water until they are cooked salt cooking.
The bulbs during which cut into thin slices and fry with a little oil in a pan.
Cut the apples into slices, give the scraped marrow of the vanilla pod to the onions and cook, stirring frequently stirring.
Puree Finally, the cooked potatoes with some of the apples. At its own discretion and, depending on the desired consistency cream and wine add and season with nutmeg and cayenne pepper. The apple slices while serving drape on the puree.
Apple celery salad
Peel apples and cut into small cubes.
Wash celery, clean, cut into thin strips and mix with the cube of apple.
Season with vinegar, oil and salt.
Walnut fry in a pan and pour over the salad.
Tips:
If you have no quince jelly in the house, you can also another jelly another yellow stone fruit used to give the sauce the certain sweetness.
For pudding fans: Ca. Cut 100g black pudding into cubes and fold into the puree.
And now I wish you much fun watching this great series! I am curious what you think.
Enjoy your meal and health!
Elena