April 20th, 2014
Slow Food Expo 2014 – Blogger meeting in the market of good taste
Expensive does not always mean better? That's right. But low and does not automatically mean good! We know that in Swabia - the Swabians avarice is well known, attributed - also. Not for nothing is here for several years in the state capital Stuttgart, the Slow Food Fair. So this year, from 10th to 13th of April.
Was ist Slow Food?
Slow Food is a movement that was founded in 1989 in Italy and it is now known worldwide. The goal is to attract, among others, the people again of where their food comes from and how it tastes, it promotes a sustainable, environmentally friendly food production, with regional and seasonal products are the focus. One speaks of "taste education", because unfortunately many people resort due to the "Fast Life" more often to finished products and thus unlearn, such as fresh vegetables from the region tastes.
The Slow Food Fair and the blogger meeting
Since I personally am working more and more with this topic, I was at this year's blogger meeting of Slow Food Fair, organized by Messe Stuttgart. There I met familiar faces, but also fellow bloggers that I have not yet got to know personally. As usual with bloggers the welcome was very warm and we came away from this week. Everyone was excited to see what the day brings so. Quickly snapped a photo with a mobile phone from a part of the group and to Instagram posted. This belongs with us and so the beauty of it: you, we do not comical looked from the side, but each "hugs" the image of the same with his own account.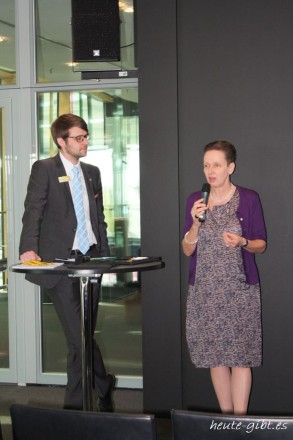 After everyone had taken their seats in the conference room, we were greeted by representatives of the Messe StuttgartAndreas Wallbillich, and the chairmen of Slow Food Deutschland e.V.Dr. Ursula Hudson, welcomed.
The first impressions
After a brief round of introductions of bloggers and individual exhibitors, it was finally happening! Together with Natalie, Sonja, Tina, Mareike, Nicole and Jens I threw myself into the fray and we were on our journey of discovery into the two exhibition halls.
From Europe to Asia - The world of spices
We had a very nice conversation on the state of the Gewurzmanufaktur Rimoco Ben Albuzat. We tried through the world of spices, which we were not only old proven herbs, but made our journey of discovery. "Egypt" has convinced me immediately and therefore had a can of "Dukkah" - a roasted Egyptian Nut Dip – same time. This will find in my kitchen not only as a dip its use, but also "pimp" to other courts.
Somehow I found is that "spice man" are always sympathetic, talk joyful people. This finding was confirmed at the next level, because at the level of TRY FOODS made us realize Jörn Gutowski that salt is not just salt. I was personally on the different tastes of salts fascinated and delighted by the mini-pyramids of Fleur de Sel, which occur in the natural way. Do not they look great?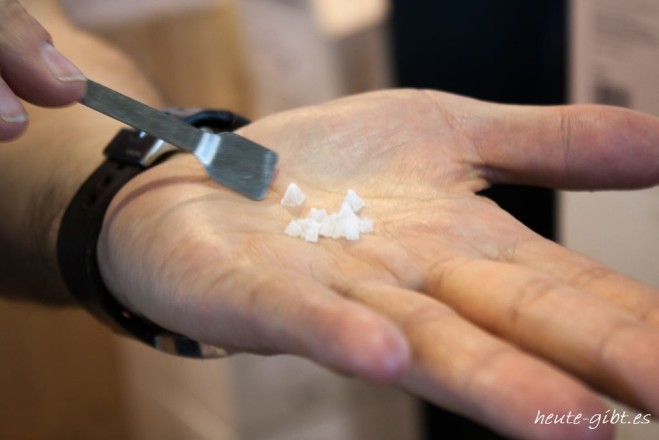 Besonders angetan hat es mir aber das Rauchsalz: Hierbei handelt es sich um Salz, das dank eines Räucherprozesses einen ganz speziellen Geschmack erhält, der an gegrilltes Fleisch erinnert. Im Alltag kann dieses Salz beispielsweise auf dem Frühstücksei oder bei Fischgerichten für Abwechslung sorgen. Diese Abwechslung sehnten sich allem Anschein nach viele Messebesucher herbei, denn ich konnte Mühe, Not und viel Glück das letzte Päckchen ergattern 🙂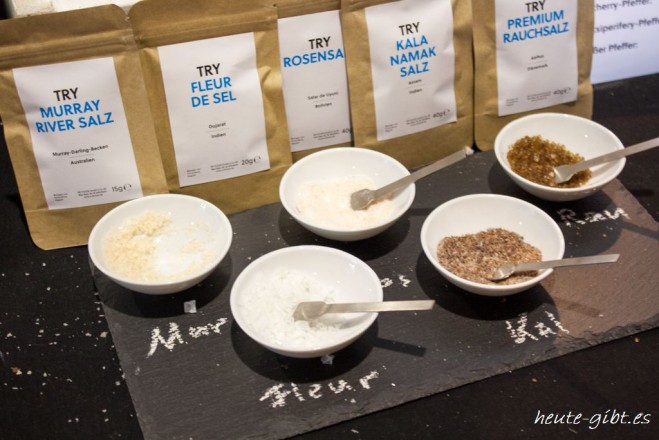 Good for the region - and from here
Our next stop was at reg.ioWhere Fritz us who already drew attention to himself during the presentation round, cute received. While there was nothing to try, but that was not necessary, because Fritz "fed" us with information around and reg.io "Good from here"And we all listened intently. He and his colleague Hendrik have met on a recent blogger meeting of the Slow Food Fair and lead since then the company. The focus will be put together gift boxes with regional products with which you can loved ones or business customers give pleasure. A glimpse into the future of reg.io we received: About a platform producers and distributors should be brought together behind Slow Food. Perhaps we can Fritz then the next year report the first results.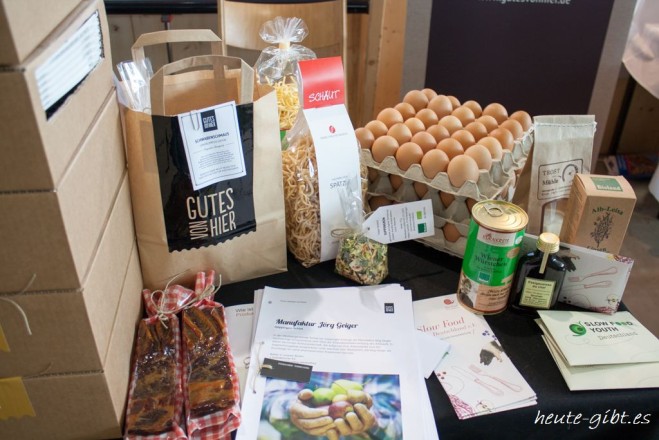 Hard liquor and a quick shopping trip
For alcohol lovers among you: The selection of breweries and distilleries was greater than expected. Of wine, and the different types of beer to booze everything was there. A longer stop was in the prior Destillerie Kohler from Stuttgart. There we were able to try different liquors and liqueurs and even got two small tasting bottles to take home. Thank you so much for this!
Before we went to the agreed meeting place where we all wanted to say goodbye to each other, each of us again flitted to the booths of their choice to make last-minute shopping. I myself had been the state of Alb-Gold entdeckt – das Nudelparadies schlechthin. Klar, dass ich als Pasta-Liebhaber nicht einfach daran vorbei laufen konnte. Deshalb kaufte ich Steinpilz-, Bärlauch- und Tomaten-Chili-Nudeln. Insgesamt immerhin 1,5kg. Nun ist euch wahrscheinlich klar, wieso ich da erst zum Schluss einkaufen wollte 😉
A glass of wine and a "See you soon"
Schließlich ging es zur Vinothek – dem Treffpunkt, an dem man den Messetag bei einem Gläschen Wein ausklingen lassen sollte. Leider waren viele der Blogger schon gar nicht mehr da, sodass wir wieder in unserer kleinen Gruppe beisammen waren. Es war für alle ein spannender Tag, es wurden viele Eindrücke gesammelt, viele tolle Leckereien eingekauft und doch war jeder irgendwie auch froh, dass man sich nun langsam auf den Heimweg machte. So ein Messetag ist halt doch anstrengender als man denkt. Aber gemeinsam mit netten Leuten vergeht die Zeit wie im Fluge und man hat jede Menge Spaß – und wenn es sympathische Foodblogger sind umso mehr 😉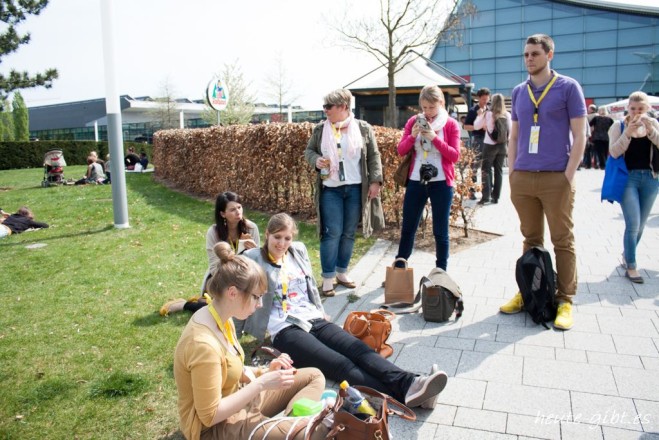 When it is time again?
The next Slow Food Fair in Stuttgart will take place from 9.4.-12.4.2015. While it will take a while until it is time again, but one thing is certain: I will be back!
Der Slow Food Button
Finally, I would like to make my fellow bloggers who were not present at the Slow Food attention to something: There is now a Slow Food ButtonThat you can insert it in your sidebar, if you want to Slow Food supports and make this visible on your blog for all. Let us make a difference!
Was that not enough Slow Food?
Then you can with the hashtags # Slowfood14 and #sfbt via our impressions Instagram Reminisce.
If you are still curious about what the other bloggers say about this year's Slow Food Fair, you will find further reports:
Greetings
Elena