May 11th, 2014
Snickers Cookies – chocolate calorie bombs that are worth every calorie!
To all those who are currently on a diet, eat low-carb or for any other reason are steering clear of chocolate and sweets: I would counsel you not to read any further, because today's dainties are small chocolate calorie bombs, which one isn't able to resist easily.
To all those who have continued to read up to this point, congratulations! I am glad that there are still people out there who not only pay attention to the physique, but deign themselves something delicious now and again, without counting every calorie. Do not feel guilty if you eat a piece of cake, or bite delightfully in one of these cookies – otherwise it only tastes half as good!
Ultimately, everyone has to decide for oneself what one eats. But to who would enjoy something sweet and has little time for baking, I recommend this cookie recipe: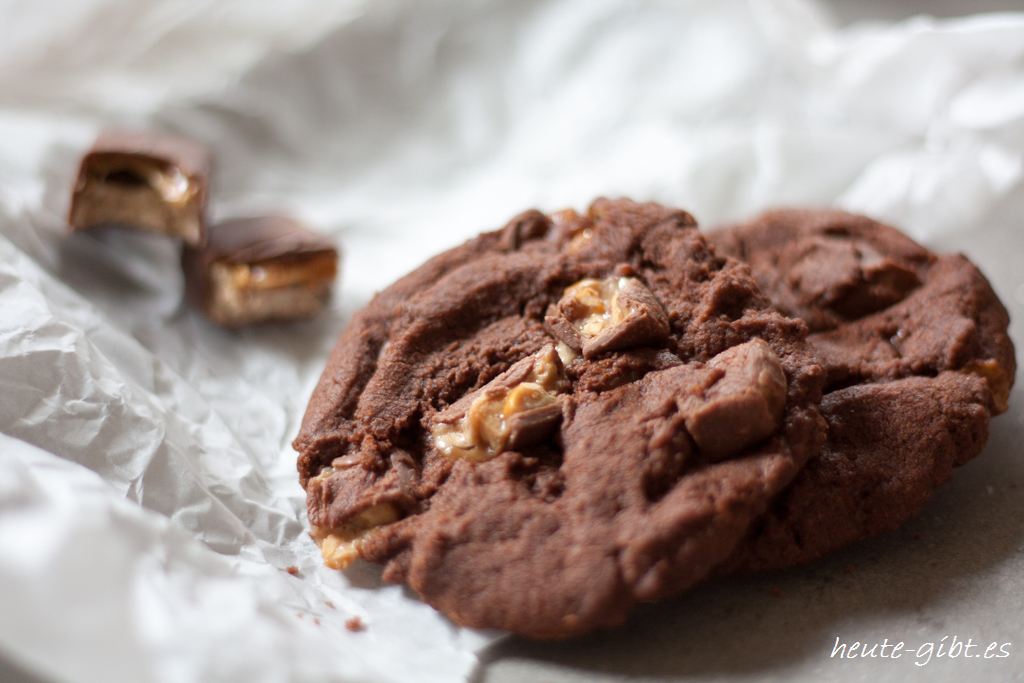 Snickers Cookies
Ingredients

: (For about 15 pieces)
150g dark chocolate
200g Snickers or other peanut-caramel bars
125g soft butter
175g sugar
1 tbsp vanilla sugar
1 pinch salt
1 egg
200g flour
1 tsp backing powder
1 tbsp cocoa
Preparation

:
Chop chocolate coarsely, melt in a water bath and allow to cool.
Stir Butter, sugar, vanilla sugar and salt with mixer until they're creamy. Afterwards, add the egg first, then add the melted chocolate and mix well.
Mix flour, baking powder and cocoa and stir into the chocolate mass.
Cut the chocolate bars into small pieces and fold ¾ of them in the dough.
Preheat the oven to 175 °C (fan).
Line a baking sheet with parchment paper, dispense dough portions with a tablespoon on it and shape them into flat circles. Leave a small gap between each biscuit as they are yet to rise during baking.
Then distribute the remaining chocolate bar pieces onto the cookies and press lightly.
Bake the cookies for 10 minutes in the oven, allow them to cool for about 5 minutes on the baking sheet and completely on a cooling rack, thereafter.


Attention

: Bake the cookies no longer than 10 minutes, because they are too dry otherwise!
Frisch schmecken diese Kekse am besten, aber wenn ihr diese luftdicht verpackt, halten sie gut eine Woche. Vorausgesetzt sie überleben es so lange 😉 Aber gerade zum Verschenken eignen sie sich sehr gut, zum Beispiel als spontanes Muttertagsgeschenk?! Oder macht euren Freunden, die weiter weg wohnen eine kleine Freude und schickt ihnen eine Portion Cookies zu. Ich bin mir sicher, dass da keiner so leicht widerstehen kann…
By the way, the recipe from the very first issue of Delicious Bakery comes. As may already have many of you know, I belong to the Food bloggers who are some baking and cooking magazines in their bookshelves. I am often asked if I ever again leaf through old issues. As you can see, I look not only always happy in there, but bake and cook things for which I may not have paid much attention to the first reading. So always look back in your old magazines, it's worth it! 🙂
Dearest greetings and a nice Mother's Day!
Elena