September 5th, 2013
Summer salad – with figs and Parmesan chips
Against all expectations, the summer has not left us in Baden-Wuerttemberg. On the contrary: The sun is shining, the shorts could again be dug out of the closet and you can enjoy the warmth in the garden sitting. Oh that's nice 🙂
Accordingly, there was day in my kitchen again a summery dish. Something that not only refreshed, but also reminds me of my home country of Italy.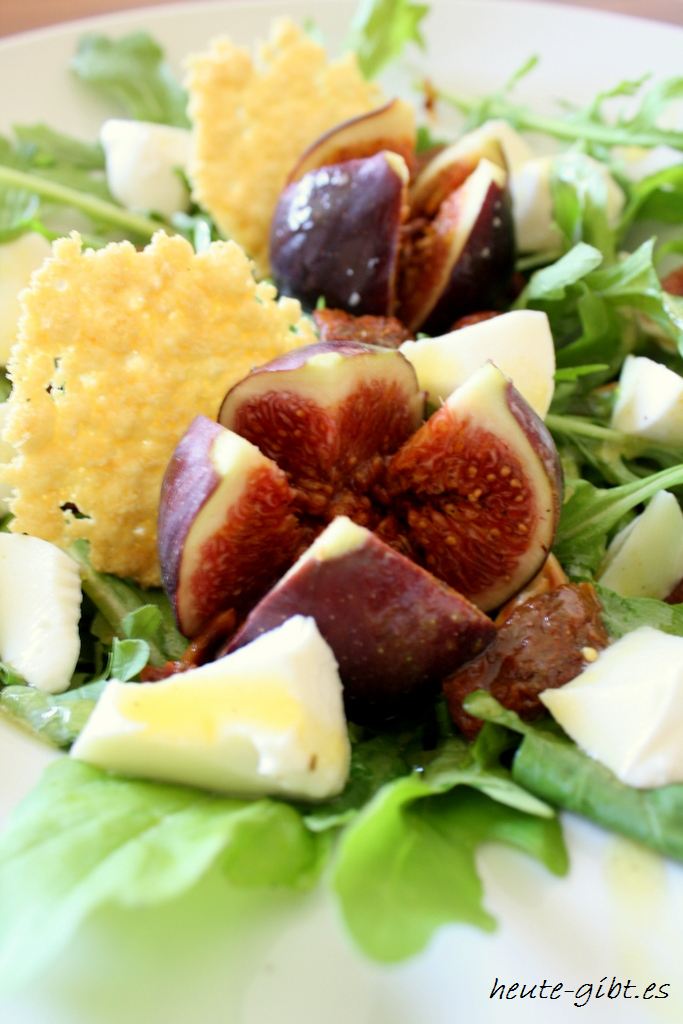 Before, we went there every year – yes driven at a large family, the summed with the flight costs 😉 – and spent a great time in Grandpa's garden. In the best memory I was left with the fig trees to this day. Both dark and bright figs you could pick there in crowds and enjoy what we – how can you certainly think you – have also exploited.
Here in Germany it is unfortunately relatively rare to enjoy this delicious fruit. Yesterday I've just indulged me again today and they came straight to the application.
And here: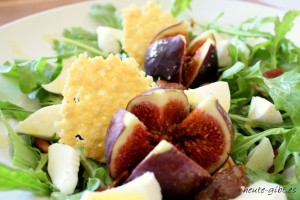 recipe
Summer salad - with figs and Parmesan Chips
Total time
20min
Arugula salad with figs and Parmesan Chips
Ingredients

: (For 2 people)
100g Rucola
4 figs
2 EL Pinienkerne
1 Mozzarella (125g)
4 sun-dried tomatoes (in oil)
4 tablespoons grated Parmesan cheese
For the dressing:
3 EL Olivenöl
2 tbsp lemon juice
1 TL dijon Senf
2 EL Honig
Salt and pepper
Preparation

:
At the beginning laid-out on a baking tray with baking paper with the grated Parmesan cheese four

Heap

form and melt at 200 ° C in the oven.
Once the cheese is melted and has adopted some color, take it out of the oven.
Please do not let out of sight, as the Parmesan chips very quickly cross the line from golden yellow to black: Attention.
Clean, wash and spread by the dry spinning on two plates of arugula.
The figs on the stem is star-shaped cut and then press together at the bottom, so that the fig opens like a flower and the flesh can be seen. These are then distributed to the arugula.
Roast the pine nuts in a skillet over low heat, stirring frequently stirring and add to the salad.
Cut mozzarella and dried tomatoes into bite-sized pieces and also add to the salad.
Now stir together from the dressing ingredients with the dressing, season to taste and pour evenly over the salad.
The finished Parmesan chips decoratively put on your plate and you have that delicious salad 🙂
If you like the way may additionally planed Parmesan cheese on the salad among the Parmesan chips. The whole thing can also be delicious spice with Parma ham. The salad can therefore be varied to suit your mood and tastes good again.
Bon appetit 😉
Elena