May 21st, 2017
Spaghetti alla carbonara – 11 minutes to the perfect dish!
Buongiorno! Today I have brought one of the most famous classic dishes of Italian cuisine. Those of you who me on Facebook follow, know since yesterday, which will give it here today Delicious: Spaghetti carbonara!
This pasta classics originally from Rome and is one of the easiest and fastest courts, which the Italian cuisine has to offer. Unfortunately for many this cooking adventure ends often in a total disaster, because even more than usual here is the right course of action is very important.
So you can prepare this classic perfectly even in your own kitchen, I was looking for the most important sources of error and tell you what you must always observe in the preparation. Curious? Here we go!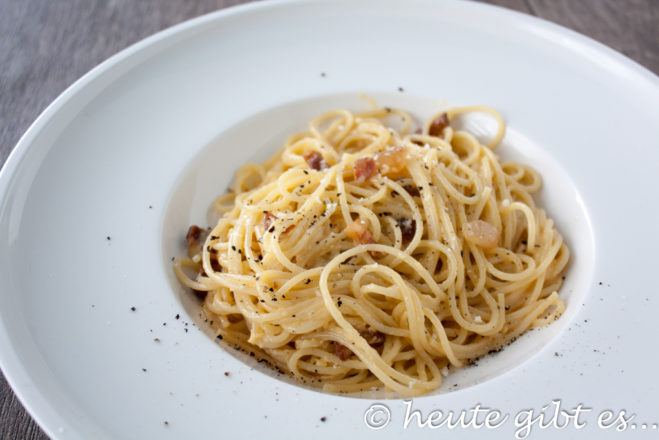 Ran an den Speck?
Der Unterschied zwischen einer guten und einer perfekten Carbonara-Soße ist meiner Meinung nach die Verwendung des richtigen Fleisches. An all diejenigen unter euch, die bisher für ihre Soße Pancetta (italienischer Bauchspeck) benutzt haben: Es geht noch viel besser, nämlich mit Guanciale! Guanciale (Schweinebacke) ähnelt zwar der Pancetta, bringt aber allein durch den höheren Fettgehalt einen viel besseren Geschmack in das Gericht.
If you have your recipe by an Italian who is on the list of ingredients pancetta and ye turn surprised, I can reassure you: Many Italians use pancetta for their carbonara. The reason often is that it gets very difficult Guanciale depending on the region or those who perhaps prefer a slightly reduced-calorie version.
If you come to the pig's cheek, then I would you definitely recommend it time to try it! The greatest opportunities to find you have in an Italian grocery store or a delicatessen them. (If you come from Stuttgart and the surrounding area, you will in any case in Stuttgart's Market Hall "Di Gennaro" find it.)
Observed when using Guanciale that you use no fat when frying in the pan, as this piece of meat gives off enough fat by the heat and the flavor would be corrupted by other fat such as butter or oil.
What did not work for me is the use of cooked ham. This brings hardly any flavor in the sauce and nothing lost in this court. With so few ingredients each for the end result is essential and should not be replaced with something that has a completely different taste. If you do, then you must not speak of a Carbonara at least!
"But please with cream…"? No way!
Einer der häufigsten Fehler der bei der Zubereitung der Carbonara gemacht wird, ist die Zugabe von Sahne. Ich habe ja gedacht, es hätte sich mittlerweile herumgesprochen, dass diese auf keinen Fall in dieses Gericht gehört, aber leider bekomme ich immer wieder mit, dass dies doch nicht so ist.
So, again for the record: cream is out of place in this sauce! The desired creamy consistency that wants to reach one or the other by the cream, you also get a good look without them. The trick lies in not completely drain off the pasta, but to give to drip into the pan with the pork cheek. For safety, you start on something pasta water and add this if necessary even when Pivoting added. This it achieved a great consistency of the sauce without making it through the cream unnecessarily rich and to affect the taste.
The right cheese
As already mentioned the carbonara comes from the Lazio region, rather from Rome. The typical for this region hard cheese is the pecorino romano, which is why it is used according to the original recipe. Another Pecorino from another region would be a good alternative if you do not get the Roman variant.
If you pecorino cheese but is too spicy and you like it milder, then you can replace it with grated parmesan part of it. This is not more true to the original, but primarily it's all about, that it tastes you!
Less is sometimes more
Beim Lesen meines Rezeptes wird dem ein oder anderen von euch vielleicht auffallen, dass ich kein zusätzliches Salz verwende. Nein, ich habe es nicht vergessen, sondern sehr bewusst weggelassen. Beim Salzen dieses Gerichts solltet ihr unbedingt aufpassen, da man hierbei sehr leicht ein zu salziges Ergebnis haben könnte. Bei Verwendung von Guanciale und Pecorino wird kein zusätzliches Salzen notwendig sein, da beide Zutaten in Kombination mit den in Salzwasser gekochten Nudeln das Gericht schon perfekt würzen. Solltet ihr beim Essen merken, dass euch wirklich noch etwas Salz fehlt, dann könnt ihr noch etwas geriebenen Pecorino auf die Nudeln geben. So hat auch wirklich jeder Gast die Möglichkeit nach persönlichem Geschmack zu würzen.
The correct order is important!
What I mean by that? It's simple: Hold on while cooking make sure to mention me in the recipe specified order of mixing the ingredients. The noodles are always short in the pan with the browned meat and these then into the bowl with the egg-cheese crowd. Sounds simple? It is! Nevertheless, one quite often that the meat is mixed with the egg or other procedures reads. here's to be a success little experimentation definitely better!
Temperature and timing
Dieser Punkt ist ausschlaggebend, ob eure Carbonara perfekt wird oder total in die Hose geht. Dies entscheidet sich meist innerhalb von wenigen Sekunden und statt einer cremigen Soße habt ihr dann Nudeln mir Rührei. Schon allein die Vorstellung ist schrecklich, oder?
Wie ihr das vermeiden könnt? Zunächst ist es wichtig, dass ihr wie im vorigen Punkt beschrieben euch an die Reihenfolge der Einzelschritte haltet. Auf keinen Fall darf die Eimasse in die heiße Pfanne gegeben werden, denn dadurch ist es aufgrund der hohen Temperatur fast unmöglich das Stocken des Eis zu vermeiden. Hierbei reicht schon allein die Hitze, die durch die heißen Nudeln erzeugt wird. Deshalb sollten diese in die Schüssel mit dem Ei gegeben werden und nie andersrum!
is just as important in the preparation that you work quickly. Once the spaghetti al dente, it has to be fast and you can leave you as little time for anything else. Swivels the noodles briefly in the pan and do not touch her too long in the egg mixture, otherwise the egg begins to falter again. Once you realize the stirring that the sauce has a nice creamy consistency, you should spread quickly to the plate spaghetti. Timing is the key to success here!
As the steps look like exactly, I'll tell you the recipe: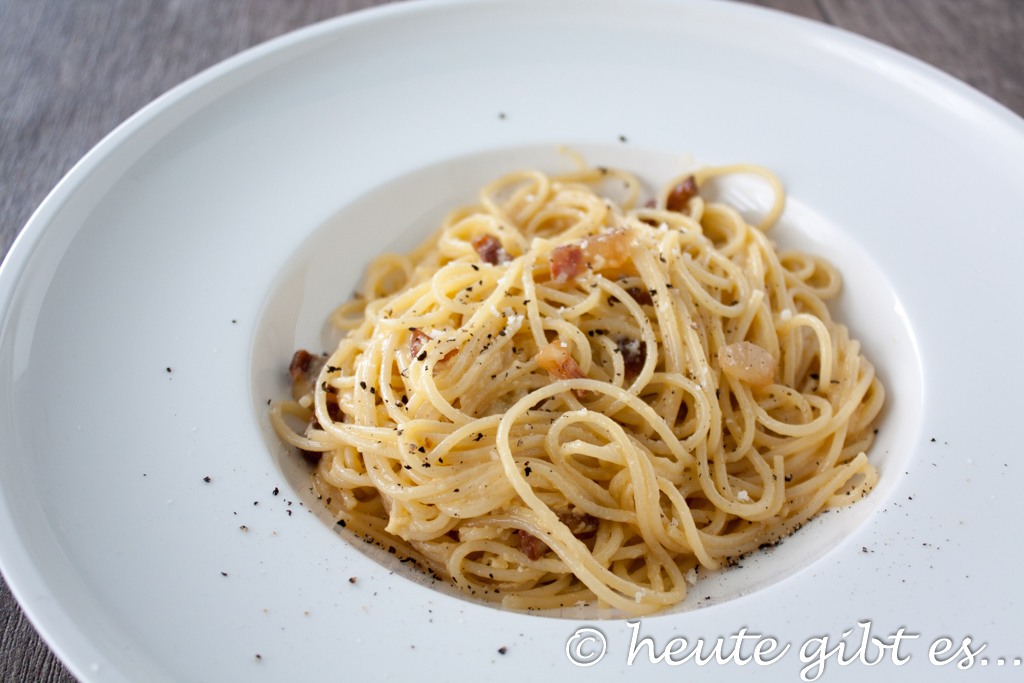 Spaghetti alla carbonara
Ingredients

: (2 persons)
200g Spaghetti
70g Pillow
2 eggs
50g Pecorino
Black pepper
Salt (for the cooking water of the pasta)
Preparation

:
bring to a boil in a pot of salted water for the pasta and cook the spaghetti is al dente.
Meanwhile, cut the Guanciale into thin strips.
In a bowl, whisk the eggs with a fork and add the grated pecorino cheese.
About 3 minutes after the spaghetti in Salzwassser are giving the Guanciale in a hot, non-stick pan and fry over medium heat. It is important to keep that always in mind and stirring, so it will not crispy.
Once the pasta is al dente, drain it – it necessarily absorb some pasta water! – and give dripping wet for fried Guanciale. Short toss everything and if the noodles a little pasta water are too dry add.
Danger: With short, really short meant here. This should take no circumstances more than 8 seconds!
Then enter the spaghetti in the bowl with the egg, all quickly stir until the sauce has a creamy consistency.
Important: No way too long stirring as their otherwise very quickly get a scrambled egg in the bowl!
provide immediately to the plate, with freshly ground pepper and if desired Sprinkle some grated pecorino cheese and serve.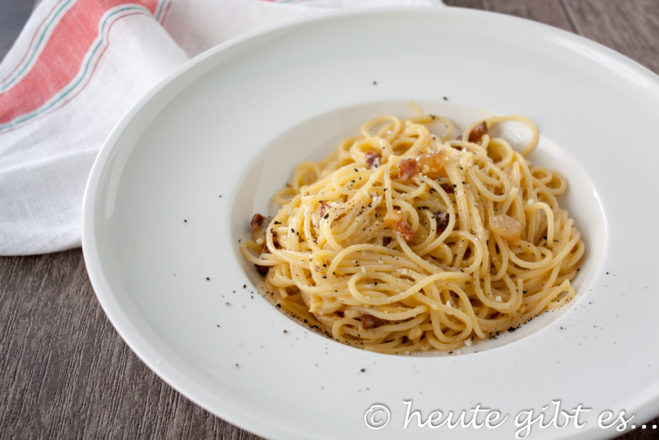 So easy cooking can be! I love this dish because of its simplicity. If you follow certain steps and uses good ingredients, you get a delicious meal within 11 minutes! Besides the familiar spaghetti aglio, olio e peperoncino this Italian classic is the perfect solution when it has to be fast again.
For those of you who may be skeptical of individual steps or ingredients I recommend it a try to try. Try first the original version, this should not be your case, then the recipe fits your taste accordingly!
Next week it goes into the final round on "classic Italian pasta sauces", In addition to the carbonara sauce I showed you in the last week, how easily Genoese Pesto and Bolognese Sauce (In Germany under more "Bolognese sauce" known) prepared.
Now the question for you: Which classic missing you yet? I would be on your part pleased about wishes! Uses this best in the comments below this post.
See you soon
Elena