January 21st, 2018
Spekulatius Spread – a tasty utilisability
Gehört ihr auch zu den Menschen, die nach den Weihnachtsfeiertagen noch ewig Schokoladen-Weihnachtsmänner, Spekulatius, Lebkuchen und Co. im Schrank stehen haben? Während andere das ganze Jahr über solche Sachen essen könnten, vergeht mir persönlich spätestens zum Jahreswechsel die Lust daran. Als würde sich unterbewusst ein Schalter in meinem Gehirn umlegen.
Every year I ask myself why always the same question: You can use these things otherwise?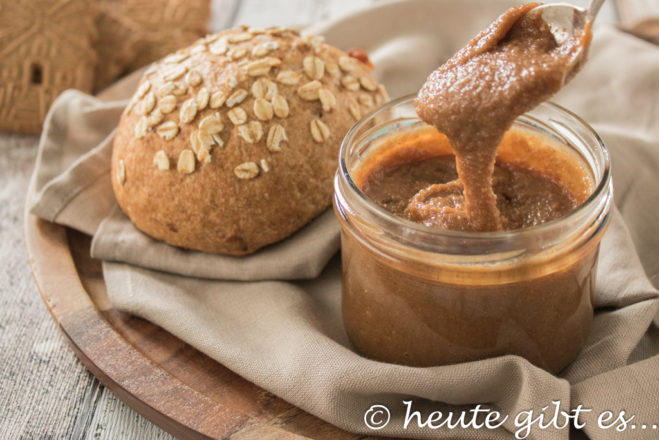 For Christmas chocolate figures (and also for the Easter Bunny) I have a perfect solution for years: Selbstgemachte Schoko Crossies, You can not imagine how fast they're gone you!
At this year's inventory of my cabinets, the large amount of Spekulatius, I noticed. Looking for a recovery option I'm on On this blog found it. The recipe I have minimally altered and there has arisen a delicious, sweet spread, which is ideal in between suitable for breakfast, but also simply for the sweet Jieper.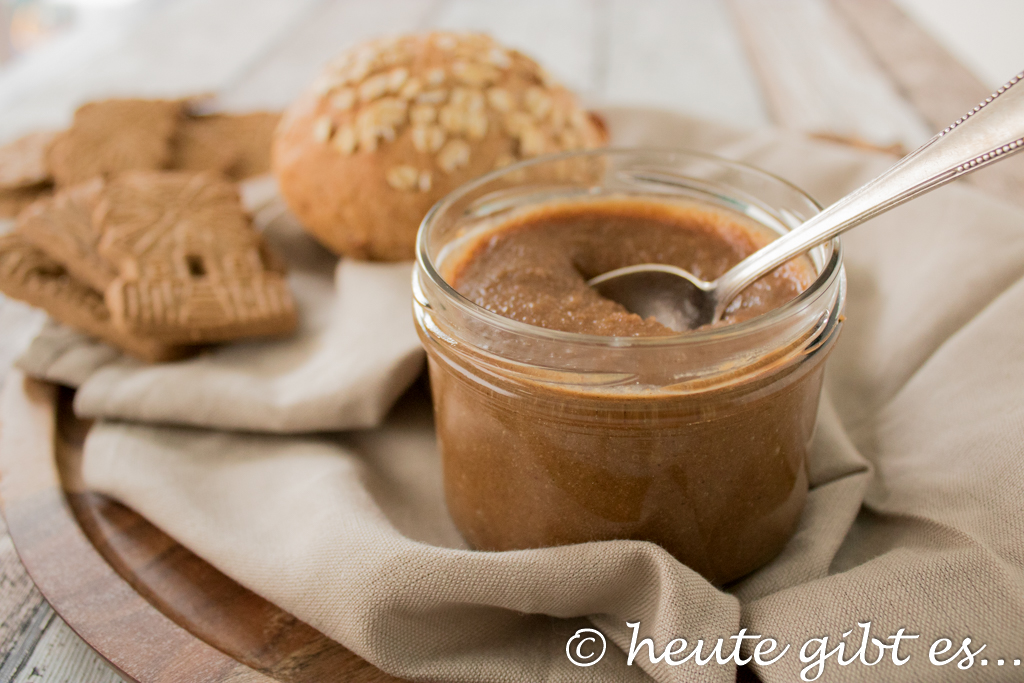 Spekulatius Spread
Ingredients

: (For 2 glasses à 200ml)
125ml condensed milk (fat content 7.5%)
75g brown sugar
50g Butter
200g Spice Spekulatius
¼ teaspoon ground cloves
1 tbs. cinnamon
Preparation

:.
The condensed milk with the sugar and the butter in a saucepan over medium heat until the sugar has completely dissolved. Here stir every now and again.
In the meantime, grind the cookies and add the clove and cinnamon.
As soon as the milk mass is ready, mix them in a bowl with the cakemix and mix vigorously with a whisk until a creamy mass.
filling the spread in glasses and once it has cooled refrigerate.
For more tips and information:
The spread should be kept in the refrigerator and keeps up to 4 weeks.
The condensed milk can be replaced with whole milk, the amount must be reduced to 90ml for a creamy consistency.
Those who want a crunchy component in the spread, can still raise a small amount of almonds or chopped nuts at the end.
A variant of coffee is possible by adding 1 teaspoon instant coffee powder.
If you just love spreads like us, then this recovery of speculoos biscuits for you may also be a solution. Try it, it's worth it!
Despite this spread I have 1 KG Spekulatius home (do not ask dear…) And am therefore looking for additional ways to exploit the Christmas cookies. Therefore, now you are asked: Do you have tips for me, what you can do even more delicious with it?
I'm curious what you have for ideas and look forward to your comments!
Bon Appetite
Elena