October 29th, 2013
Tagliatelle with butternut squash
Bist du auf der Suche nach einem leckeren, vegetarischen Rezept mit Butternut-Kürbis? Dann bist du hier genau richtig, denn ich zeige dir wie du in weniger als 30 Minuten ein herbstliches Pasta-Gericht zubereitest. Bei mir gibt es dieses jeden Herbst, sobald die Kürbis-Saison beginnt.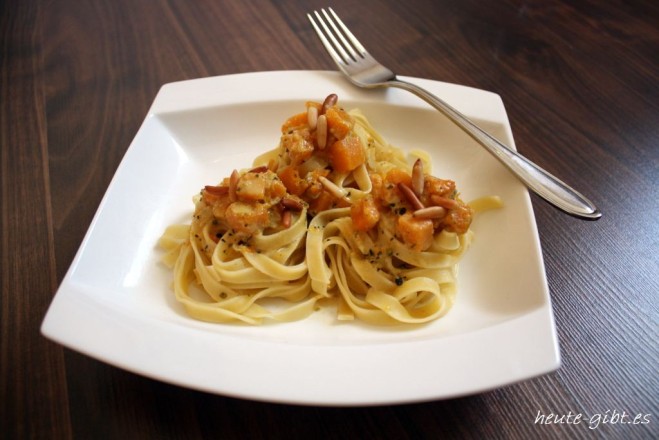 Zubereitung von Butternut-Kürbis
Bis vor wenigen Jahren habe ich gar keinen Kürbis gegessen und wenn dann nur die Sorte Hokkaido verwendet. Irgendwie dachte ich, dass die Verarbeitung und Zubereitung der anderen Kürbis-Sorten total kompliziert ist. Bis ich bei meinem ersten Kochexperiment mit dem Butternut festgestellt habe, dass eigentlich nur das Schälen an Arbeit dazu kommt. Aber das funktioniert ja mit einem einfachen Sparschäler schon sehr gut und dauert keine fünf Minuten. Dafür hat man dann aber einen größeren Anteil an Fruchtfleisch, das im Fall von Butternut-Kürbis leicht nussig schmeckt.
Rezept für Pasta mit Butternut-Kürbis
Dass ich als Italienerin ein großer Pasta-Fan bin, ist ja kein Geheimnis. Deshalb musste ich unbedingt ein Pasta-Gericht mit Kürbis ausprobieren. Entstanden ist am Ende ein vegetarisches Nudelgericht, das in weniger als 30 Minuten zubereitet ist und es seitdem bei uns jeden Herbst gibt. Die leichte Sahnesoße wird mit Thymian, Rosmarin, etwas Curry und Zimt gewürzt und schmeckt in Kombination mit dem nussigen Geschmack vom Kürbis besonders köstlich. Die gerösteten Pinienkerne geben den Gericht den letzten Schliff. Als Nudeln empfehle ich persönlich dazu Tagliatelle.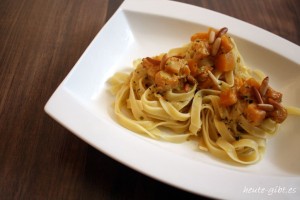 recipe
Tagliatelle with butternut squash
Total time
25min
Tagliatelle with butternut squash
Ingredients

: (For 4 people)
500g butternut pumpkin (weight after cleaning and coring)
2 EL Olivenöl
1 medium onion
2 cloves of garlic
500g tagliatelle or other pasta as desired
200ml cream
400ml vegetable stock
2 EL Pinienkerne
Spices and Herbs:
2 sprigs of rosemary
1TL getrockneten Thymian
1 gestrichenen TL Curry
1/2 TL Zimt
Salt and pepper
Preparation

:
Peel, core and cut into equal sized cubes butternut squash.
Put the oil in a large pan and let heat.
Dice the onion finely and add along with the crushed garlic into the hot oil and fry briefly.
Put alongside the water for the pasta and boil according to package directions until al dente.
Give the Butternutwürfel in the pan and lightly fry, stirring constantly. The spices and herbs to give and mix well.
Now the whole Deglaze with vegetable stock and simmer on low heat for about 5 minutes.
Then add the cream and let boil lightly.
Meanwhile, lightly fry in a separate pan the pine nuts without adding fat.
Once the squash is cooked, remove the rosemary sprigs from the sauce and again if necessary and season with salt and pepper.
Important: The sauce does not boil longer, because it is too thick otherwise and the pumpkin falls apart.
The al dente cooked pasta in a plate, give the sauce on top and sprinkle with the pine nuts.
Ich kann dieses Rezept wirklich nur wärmstens empfehlen. Auch wenn sich die Gewürzkombination vielleicht etwas ungewöhnlich anhört, gerade das überzeugt und bei dieser Pasta immer wieder. Selten reicht uns ein Teller pro Person, weshalb ich immer etwas mehr koche.
Falls dir dieses Hauptgericht nicht zusagt, dann probiere doch meine Kürbis-Gnocchi oder mein Kürbis-Risotto. Zwei weitere Favoriten unserer Herbstküche.
Regards

Elena