October 29th, 2013
Tagliatelle with butternut squash
Welcome to my kitchen autumn 🙂
Today there is at me a personal premiere: I first bought a butternut squash. This is probably not a highlight for many of you. For me, however, has until recently eaten no pumpkin and then only used Hokkaido, it is even more special. In my first cooking experiments with pumpkins I've known chose Hokkaido, since this is indeed very simple. Somehow I convinced myself that the other pumpkins are difficult to process and have therefore prefer a wide berth around it made.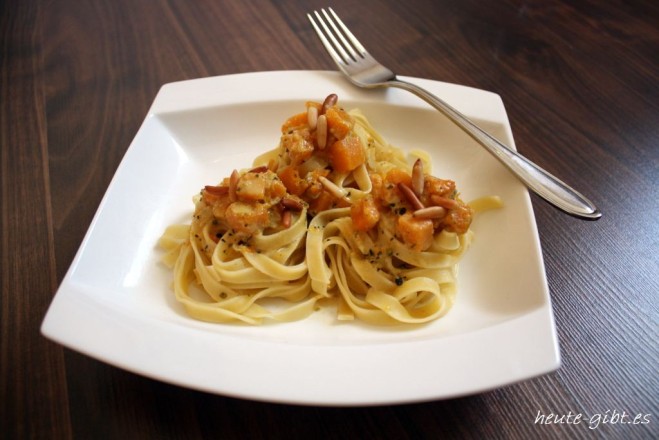 So after I had my butternut squash I could convince them that it is just as easy to work myself. Although it must be peeled, but this happens very quickly with a simple peeler, but compared to the Hokkaido much less seeds and more for pulp are available. Not too shabby either very 😉
Now I wanted to cook something delicious with it. Since we had two days before a pumpkin risotto – the recipe will be available in the next few days – should be more pasta this time. Since pasta is an all-rounder, I could not imagine that there should be no prescription in combination with the butternut squash in the Internet. During my search I came across Danny's Blog "Cozy and Cuddly" came across this recipe I did a little modified.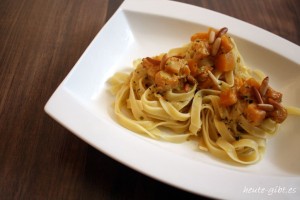 recipe
Tagliatelle with butternut squash
Total time
25min
Tagliatelle with butternut squash
Ingredients

: (For 4 people)
500g butternut pumpkin (weight after cleaning and coring)
2 EL Olivenöl
1 medium onion
2 cloves of garlic
500g tagliatelle or other pasta as desired
200ml cream
400ml vegetable stock
2 EL Pinienkerne
Spices and Herbs:
2 sprigs of rosemary
1TL getrockneten Thymian
1 gestrichenen TL Curry
1/2 TL Zimt
Salt and pepper
Preparation

:
Peel, core and cut into equal sized cubes butternut squash.
Put the oil in a large pan and let heat.
Dice the onion finely and add along with the crushed garlic into the hot oil and fry briefly.
Put alongside the water for the pasta and boil according to package directions until al dente.
Give the Butternutwürfel in the pan and lightly fry, stirring constantly. The spices and herbs to give and mix well.
Now the whole Deglaze with vegetable stock and simmer on low heat for about 5 minutes.
Then add the cream and let boil lightly.
Meanwhile, lightly fry in a separate pan the pine nuts without adding fat.
Once the squash is cooked, remove the rosemary sprigs from the sauce and again if necessary and season with salt and pepper.
Important: The sauce does not boil longer, because it is too thick otherwise and the pumpkin falls apart.
The al dente cooked pasta in a plate, give the sauce on top and sprinkle with the pine nuts.
I can really only recommend this recipe. It gave us tasted so delicious that everyone wanted to have the same a second platter. In my opinion is just the hint of cinnamon to the court that certain something.
This dish will be with us in the future and certainly more often belong to the pasta classics.
For this reason, I submit it to the blog event of Marie of "Treasures from my kitchen" a: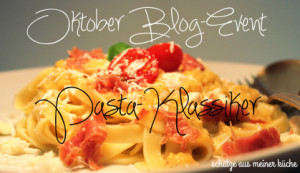 Autumnal Greetings
Elena