April 2nd, 2016
Tiramisu Cupcakes – a slightly different approach to the Italian classic
Sometimes, Behind a recipe a deeper meaning.
It combines certain memories so or certain feelings that by coming back to the surface.
Sometimes, The original recipe comes from a loved one and we are so thrilled that you nachkocht it in honor and thinks of these special people.
And sometimes, Recipes are so, like this: New and like a blank sheet.
It has previously never tried it and do not know if it will actually taste.
But are those recipes necessarily worse? Just because they may be developed appropriate?
I can not find!
At today's recipe, for example, I had certain goals in mind:
The people it should taste – that would be a basic requirement already not bad 😉
Since it is our Pop Up Bakery on "Muffins & Cupcakes" should be served, it had to be one of those small baked – great, the restriction makes it easier with me before my indecision.
It should me to represent have an Italian touch.
When people take a bite, they should remember her last holidays in Italy and a little "sweet life" feel – in my mind's eye I already imagined the facial expressions of these people.
It should look visually appealing – the eye eats with known!
The scheme is with me always the same: Once my goals are fixed, it goes with the brainstorming going on. Then is looked for inspiration in books and research on the Internet. After that ideas are defined more closely adapted to my goals and desires and eventually is my final fixed.
a handy and probably rather unusual twist on the classic tiramisu: In this way, this tiramisu cupcakes emerged. These cupcakes arrived at our Pop Up Bakery so good that they were one of the first sold out – have and allegedly even tasted. I would say: Target reached 🙂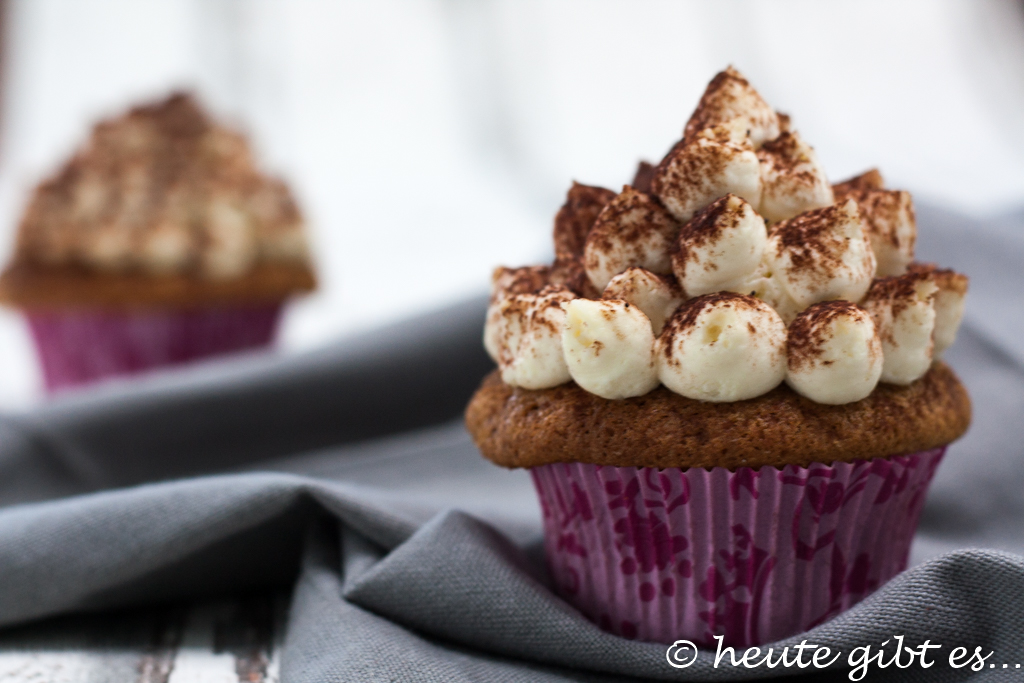 Tiramisu Cupcakes
Ingredients

(10 units)
150g butter, room temperature
150g sugar
1 pinch salt
3 eggs
8 tablespoons milk
240g flour
1 tsp backing powder
½ TL Natron
1 EL soluble coffee powder
1 ½ amaretto
Topping:
400g mascarpone
150ml whipping cream
1 tbsp vanilla sugar
3 ½ EL icing sugar
Cocoa powder for decoration
Preparation

:
Preheat oven to 160 ° C (circulation) Preheat.
Stir in the butter with the sugar and salt until fluffy in a bowl.
The eggs gradually under stirring and continue to stir the entire mass for about 2 minutes.
Then add the milk and mix until the milk has been fully connected to the dough.
Flour, baking powder and baking soda mix, spoonfuls add to the dough and stir.
Add the amaretto into a bowl and dissolve the coffee powder in it while stirring. add to the dough and continue stirring until a uniform color is obtained.
Now enter into the wells of a muffin plate matching ramekins and distribute the dough in it.
(Do not forget toothpick!) The cupcakes for about 25 minutes to bake in the oven and allow to cool.
Mix the topping of mascarpone and sifted icing sugar. Cream until stiff, add vanilla sugar and fold in. Pour the cream into a piping bag and squeeze onto Sponge.
If you want to inject as in the photo on your cupcake topping the Sun, you have a Lochtulle splash inwards small dots from the outside, until the entire surface is covered.
Store cupcakes in a cool place and some cocoa before serving to seven.
Since no eggs are included in the topping, you've got to here, even on hot summer days do not worry. The amaretto can you – if children or pregnant guests are present – replace simply by milk.
Should you prefer the classic version, then I can offer you only our family recipe for tiramisu, which previously always super arrived.
Well, who would now feel like a delicious cupcake – including imaginary short trip to Italy? 😉
Kisses
Elena