April 2nd, 2017
Tiramisu without an egg – and 5 tips for a Foolproof tiramisu
Today there is a reason for joy, because there is a new monthly topic for my blog series on Italian cuisine. After in March Gnocchi went and it was Sunday accordance hearty, I once picked this a sweet theme, so that the sweet tooth should look forward with you.
In April, it says here:
"Italian Kitchen – Learn all about CLASSIC DESSERTS!"
I've chosen true Italian classic therefor, some of them will be relatively unknown here in Germany. With one exception, no oven is needed so that those of you who are particular about "cessert" have gotten equal panic, can rest easy 🙂
A difference from the last month will be that there will be like the gnocchi in the end no abstract, but I will tell you always match the dessert important tips and tricks. But let's just surprise you and get going together!
The classic – Tiramisu
When I created the list for the April series, struck me as the first equal tiramisu one. That will probably next Panna cotta – Foolproof my recipe for this I already tell you – be the most famous Italian dessert outside Italy. Translated, tiramisu "Pull me up"What probably due to the stimulating effect of coffee – a major component – is due.
There are thousands of variations of this dessert and every family has a family recipe to which it swears. Perhaps one or the other of you remembered that I been here a long time ago our family recipe have published. Due to the lack of alcohol, it is not 100% true to the original, but all the guests arrived always great and no one has missed something.
Tiramisù in the summer? No problem!
But again and again I am asked if I would because me not to worry because of the raw eggs in the summer. Everyone thinks there immediately salmonella and then often makes a wide berth to this dessert. Also among the searches of blogs popping up "Tiramisu without an egg" in which case the people landed on my family recipe with eggs – very frustrating!
For this reason I have been experimenting in my kitchen and developed a version without eggs, of which I myself am convinced. Most concerns I had with the consistency of cream, but in hindsight, these were totally unjustified. On the alcohol I have not waived this time, where you can replace this with certainty by rum flavoring.
But now I'll tell you the recipe for the eilose variant and then a few rules that you have to generally must be observed in the preparation of tiramisu, so you get a perfect score!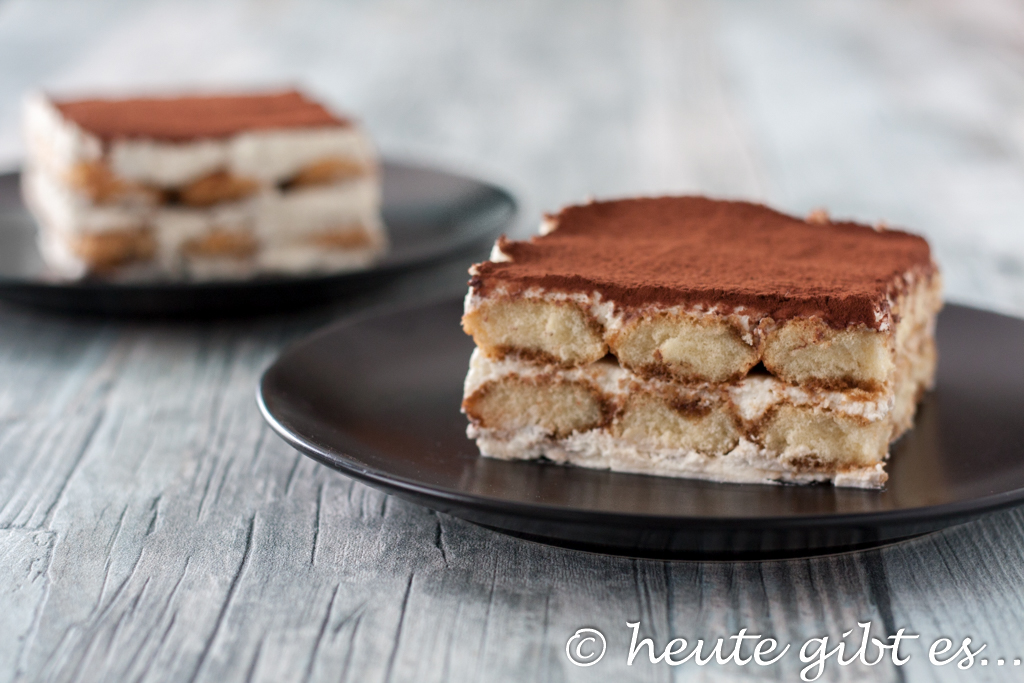 recipe
Total time
3h 30min
Tiramisu without an egg
Ingredients

: (For 6 persons)
250g mascarpone
40g sugar
1/2 EL vanilla sugar
125ml Scene
45ml Amaretto
ca. 80ml Espresso (lukewarm to cold)
250g sponge fingers (of the form, prefer something more dependent have on hand)
Cocoa for dusting
Preparation

:
give mascarpone, sugar, vanilla sugar and 30ml Amaretto in a bowl and stir until creamy.
Whip the cream in a separate bowl stiff and then lift with a whisk under the mascarpone, until obtaining a homogeneous mass.
split by a form so much cream that the soil is just so covered.
Mix the remaining Amaretto with the espresso, then apply a small amount of espresso mixture into a shallow bowl, the ladyfingers briefly in succession (!) dip and both sides in next to each other on the previously distributed cream.
Once the first cookie layer placed in all of the mold, a thin layer of cream is distributed, so that the biscuits are just covered so as to these.
Now repeat step 4, making sure that the sponge fingers are designed in the same direction as in the first layer.
Finally, a little thicker, a maximum of 1 cm high, spread mascarpone layer on the biscuits.
The tiramisu for min. 3 hours – like overnight – put something into the fridge.
Sprinkle with cocoa just before serving and enjoy.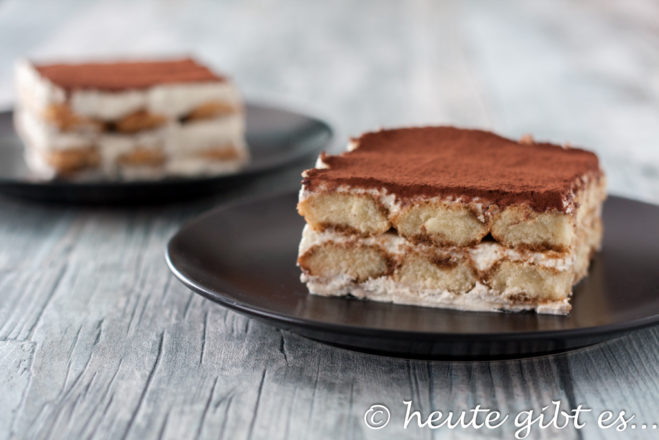 Especially beginners are very insecure in the preparation of tiramisu and I also know many people who do not trust it because of disastrous results. For this reason, I have five tips for you that you have to observe in order for the Italian classics succeeds perfectly now.
So you succeed 5 tips a tiramisu definitely
Konsistenz there mascarpone cream

Ganz häufig bekomme ich mit, dass ein Tiramisù missglückt ist, weil dieser viel zu flüssig geworden ist oder sogar die Löffelbiskuits darin schwimmen. Die Ursache für dieses Ergebnis kann eine flüssige Mascarponecreme oder zu eingeweichte Löffelbiskuits (siehe Punkt 2) sein. Haltet euch unbedingt an die angegebenen Mengenverhältnisse der Creme und ersetzt nicht z.B. einen Teil Mascarpone durch Quark oder ähnliches. Dadurch ändert sich nicht nur der Geschmack, sondern gleichzeitig riskiert ihr, dass euch die Creme zu flüssig wird und dann beispielsweise die Kekse aufweicht.

Important here is that the whipped cream or beaten egg white is really only lifted in the classic version. No way you should this stir with the hand mixer!

use the right amount of coffee

Der wohl größte Fehler bei der Zubereitung dieser Süßspeise ist die Benutzung der falschen Menge Kaffee. Verwendet man zu viel davon werden die Löffelbiskuits zu weich und im schlimmsten Fall der Tiramisù am Ende viel zu flüssig. Nimmt man hingegen zu wenig, bleiben die Kekse viel zu hart und das Ergebnis wird viel zu trocken sein. Es ist hierbei Schwierig eine ganz genaue Menge anzugeben (deshalb auch die ca. Angabe bei den Zutaten), da dies von den verwendeten Löffelbiskuits abhängig ist. Es gibt Leute, die auf einen Sprüher schwören und andere, die dagegen eine bestimmte Anzahl Teelöffel pro Keks verwenden. Eine weitere oft verwendete Methode ist das Einpinseln der Kekse.

Personally, I always fill a small amount of coffee into a shallow bowl and dip the biscuits while short of both sides in the liquid. With short I mean this very short!
As a rough guide: In a commercial sponge fingers for tiramisu should when cut the biscuit each "coffee layer" be up to 2mm high.
layers properly

Make sure that you use in the lower layers not too much cream. The bottom and middle cream layer should be so high that the bottom of the mold or the sponge fingers are just so covered. Equally important for the later incision that their coated biscuits in the same direction.

ladyfingers – Sugar side up or down?

While I've never been thinking about whether it makes a difference, must be above which side the layers of cookies, this is one of the most common questions I get asked. has always been my answer that I put the sugar side up, but only because I just always do it. I did this but now tested out of interest and finally got the answer to this question: It does not matter!
You can taste any difference whether the sugar side of the biscuits was previously located above or below. So you can in the future without uncertainties it happening layers 🙂

Not too early dust with cocoa

a tiramisu is not completed until by the cocoa layer on the surface. Should you take this dessert for a celebration, then grabs a sieve and cocoa prefer and dusted the tiramisu in place first, really just before serving. It's not a total disaster, if ye do not make, but the cocoa layer gives way to relatively quickly and then looks especially visually not so great.
I hope I could take those of you who have so far not dared to homemade tiramisu the fear of it. Attention to a few important rules, this dessert is really easy to prepare!
Should you have any questions regarding this section, then simply used but the comments and I'll try to answer this expedition!
If you incidentally Mögt no coffee, my Bananen-Tiramisu certainly the right thing for you.
See you soon
Elena