May 8th, 2015
Tomato soup with mozzarella and basil
Soup in the sun weather we have now? Admittedly, I was a bit surprised when I asked you for the next court for my Blog. But then I reminded me of my childhood, when we went in the summer to Italy and have visited there my grandparents. Sicily, in August temperatures around 40 ° C are not uncommon there and what it had to give at least you always? Minestrone. Well, for the sake of family I have ever eaten it, although I prefer to eat such dishes in winter.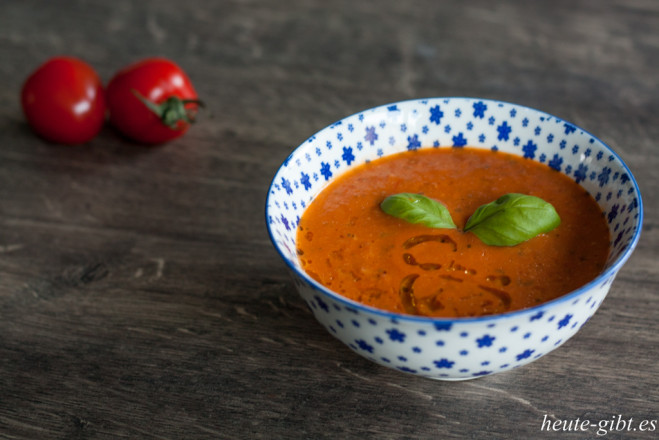 No, today I have no minestrone for you. I'm just – again – vom Thema abgekommen, weil ich meinen Erinnerungen freien Lauf gelassen habe. Aber die heutige Suppe ist mindestens genauso lecker. Ich serviere euch eine typische italienische Kombi heute in Suppenform: Tomate – Mozzarella – Basilikum. Das Rezept stammt vom Buch "At the table!" Christian Henze und ist auch für Kochanfänger super geeignet 😉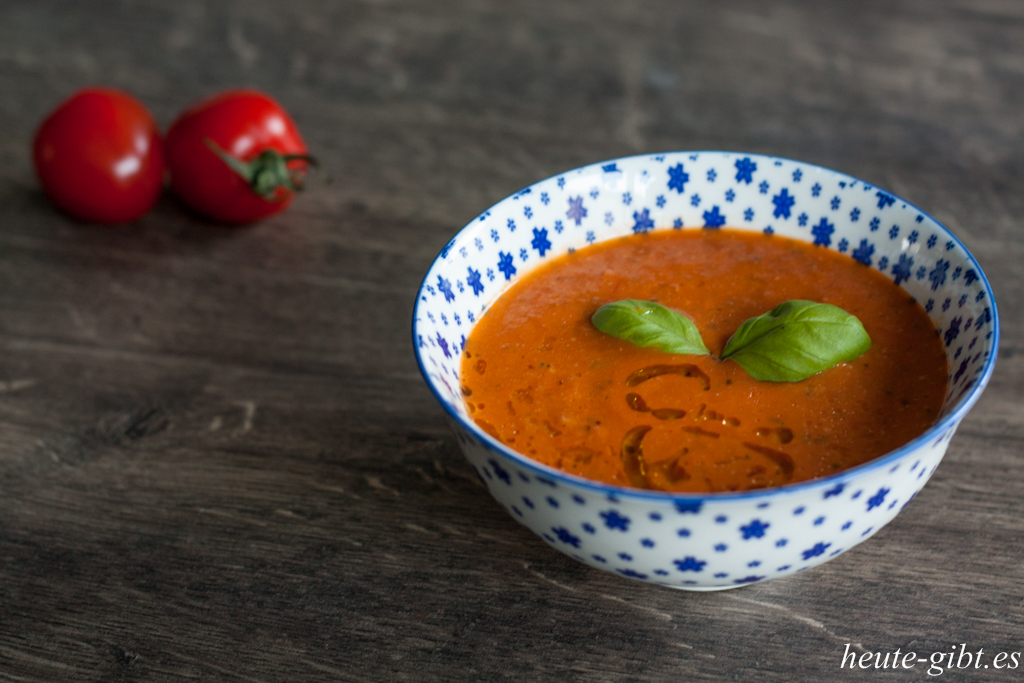 recipe
Tomato soup with mozzarella and basil
Total time
45min
Tomato soup with mozzarella and basil
Ingredients

: (For 4 people)
500g reife Kirschtomaten

4 Knoblauchzehen

8 THE Olivenöl

½ TL Meersalz

1 small onion

30 Basilikumblätter

400g geschälte Dosentomaten

1 Kugel (Büffel-)Mozzarella (125g)

Salt and pepper
Preparation

:
Backofen auf 180 °C (Ober-/Unterhitze) vorheizen.

Die Kirschtomaten waschen und mit einer Gabel mehrmals einstechen.

Peel garlic, chop coarsely and place together with the tomatoes on a baking sheet. 5 tablespoons oil over drip, season with sea salt and slide for 20 minutes in the oven.
Finely dice onion. Heat the remaining oil in a saucepan over medium heat and fry the onions until translucent.
Basil leaves and canned tomatoes add to the onions and cook for about 15 minutes at low temperature.
Add the chopped mozzarella and cooked cherry tomatoes and puree everything well with a hand blender.
Tip: If the soup is too thick liquid, carefully add a little hot water and puree again until the desired consistency is reached.
Finally, season the soup with salt and pepper and serve hot.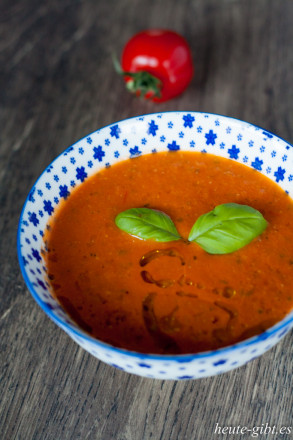 Simple and delicious – typisch für die italienische Küche 🙂 Und auch bei Sonnenschein kein Fehler!
As it looks at you out with soup in warm weather? Eat her happy or do you prefer as a big bow around it?
Sunny greetings
Elena