November 25th, 2013
Traumhafte Winterrolle
Zeitmanagement gehört leider nicht zu meinen Stärken. Das habe ich schon mehrmals im Leben merken müssen und bewundere deshalb Leute, die alles durchplanen und sich auch daran halten. Bei mir klappt dies aus welchem Grund auch immer nie so wirklich. So also auch mit diesem Beitrag. Das Kochmädchen hatte mich gleich zu Beginn ihres Blogevents – das war vor immerhin fast einem Monat! – auf dieses aufmerksam gemacht. Das Thema ist "Die flotte Rolle", das heißt, es ist alles erlaubt egal ob süß oder herzhaft, Hauptsache es handelt sich um irgendeine Rolle. Ich wollte unbedingt bei diesem Event mitmachen, da ich die Gastgeberin sehr sympathisch und das Thema toll finde.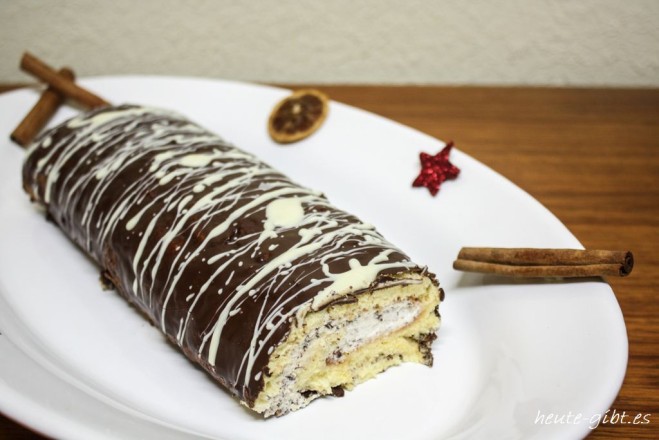 Naja, es kam wie so oft in meinem Leben einiges dazwischen und nun stand ich gestern Abend – I mean after 20 clock – in meiner Küche und versuchte irgendeine Rolle zu kreieren. Süß sollte sie sein, nichts Gewöhnliches und passend zur aktuellen Jahreszeit. Schließlich entstand Schritt für Schritt diese leckere Rolle in meiner kleinen Küche: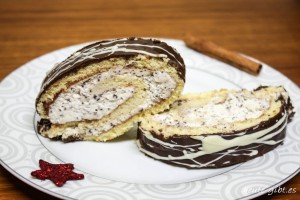 recipe
Total time
1h 45min
Traumhafte Winterrolle
Ingredients

:
For the dough:
5 eggs
1 pinch salt
70g Mehl
1 Messerspitze Backpulver
70g sugar
1 Päckchen Vanille Zucker
For the filling:
50g Zartbitterschokolade

350g Sahne

1 Päckchen Vanille Zucker
1 pinch of gingerbread spice
For the glaze:
50g Zartbitterschokolade

50g Vollmilchschokolade

1 pinch of cinnamon

30g Kokosfett

25g weiße Schokolade
Preparation

:
Eier trennen, zum Eiweiß eine Prise Salz hinzugeben und zu Eischnee steif schlagen.

Die Eigelbe zusammen mit dem Zucker und dem Vanillezucker schaumig schlagen. Das Mehl mit dem Backpulver mischen und unterrühren.




Den Eisschnee anschließend vorsichtig mit einem Schneebesen unterheben.

Nun die Masse gleichmäßig auf ein mit Backpapier ausgelegtes Backblech verteilen und bei 200°C (Ober- und Unterhitze) für 10-15 Minuten im Backofen leicht goldbraun backen.

Währenddessen 50g Zartbitterschokolade fein hacken. Die Sahne steif schlagen und dabei den Vanillezucker und das Lebkuchengewürz hinzugeben. Anschließend die Schokolade unter die Sahne heben.

Die Marmelade in einem Topf bei geringer Hitze erwärmen und kurz beiseite stellen.

Sobald der Biskuitteig fertig gebacken ist, diesen folgendermaßen vom Backblech holen:




Ein feuchtes Geschirrtuch auf die Arbeitsfläche legen und mit einem weiteren, aber trockenen Geschirrtuch bedecken. Nun den Biskuit auf das Tuch stürzen und das Backpapier vorsichtig aber zügig lösen.

Die noch warme Marmelade auf die Biskuitrolle streichen, die Schoko-Sahne auf die Marmelade verteilen und den Biskuit mit Hilfe der Tücher fest aufrollen. Die Rolle auf einem Kuchengitter kalt stellen.

Die beiden dunklen Schokoladensorten für die Glasur zusammen mit dem Kokosfett im Wasserbad schmelzen und den Zimt unterrühren.

Die geschmolzene Schokolade kurz etwas abkühlen lassen und die Biskuitrolle damit überziehen. Diese wird danach für etwa 1 Stunde kalt gestellt.

Die weiße Schokolade grob hacken und ebenfalls im Wasserbad schmelzen. Die Biskuitrolle anschließend damit verzieren, indem man die Schokolade von einem kleinen Löffel fließen lässt und so auf der Rolle verteilt.

Zum Schluss die Biskuitrolle solange kalt stellen, bis die weiße Schokolade vollständig fest geworden ist.
Trotz der an den Tag gelegten Hektik, bin ich mit dem Ergebnis durchaus zufrieden und würde die Rolle jederzeit wieder backen. Denjenigen, die es etwas fruchtiger mögen, rate ich dazu, etwas mehr Marmelade und dafür etwas weniger Sahne zu verwenden.
So liebe Julia, ich hoffe du freust dich über diese flotte Rolle mit einem Touch Winteraroma 😉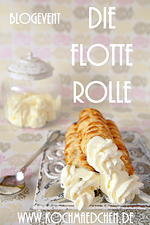 Greetings
Elena