October 1st, 2013
Dream pieces – I also have tried it
Today it is all about a small pastries, what many of my food blogger colleagues report for weeks on the Internet. Everyone bakes the recipe, which originally from Nancy from the Blog "Velvet and cream" dates and by Karen "Karens Backwahn" known was made by and raves in the highest terms thereof.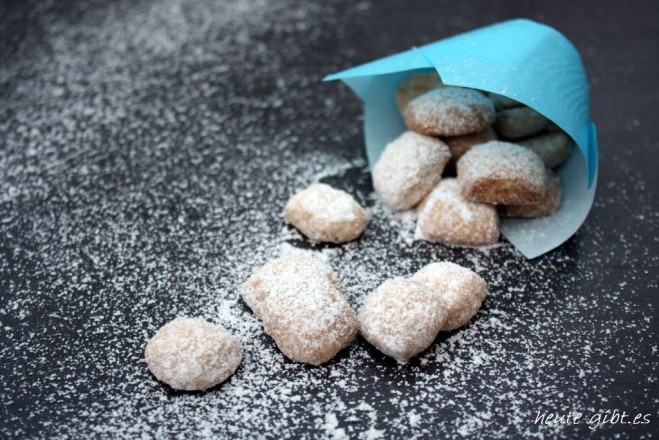 The many pictures and especially the great enthusiasm for this "Dream pieces" but then made me so curious that I now had to even try it myself. But it eventually wants to miss anything and beyond to know if there create these cookies in my home bakers heart.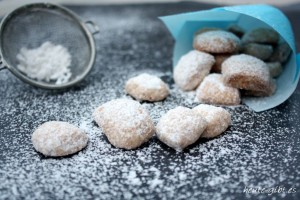 recipe
Total time
1h 25min
Dream pieces
Ingredients

(For 2 full sheets)
500g flour
5 egg yolks
250g butter
2 tsp vanilla
150g sugar
250g icing sugar for dusting
Preparation

:
All ingredients – without the icing sugar naturally 😉 – place in a bowl and knead into a dough.
Shape the dough into a ball, wrap in plastic wrap and place for about 1 hour in the refrigerator.
Shortly before the end of the cooling time to preheat the oven to 180 ° C (fan) position.
Now the dream pieces are formed by first taking a small piece of dough and roll into a finger thick roll.
Then you cut off about 1 cm long pieces and puts them on a lined baking tray. As the dream pieces rise not strong, the distance between these need not be very great.
With the further dough use the same steps until it is completely depleted.
The pastry is baked golgbraun now for about 10-15 minutes.
Place after the baking time the dream pieces to cool on a wire rack.
Once these are lukewarm, give a little icing sugar in a bowl and shake gently until the biscuits are covered with powdered sugar.
Important: Make sure that the cookies are not too hot or too cold, otherwise they will absorb the icing sugar and not record properly.
Biscuits dry and cool place!
My personal opinion on these cookies?
They are quite easy to make and taste quite well. The taste they remind me very much of vanilla, which is a reason that the recipes – from the missing nuts here – are very similar.
But the dream pieces so well that the hype is understandable therefore created?
Without wishing to offend anyone, I myself can hardly explain it to me. The biscuits are certainly tasty, but not soooo good for me that I would praise her in the sky. Maybe it is because I had too high expectations in this regard by the many contributions or just because I'm more of a chocolate type.
Best of all, it bakes the dream pieces after forming your own opinion, because tastes are obviously differ.
Maybe it creates this delicious biscuits in your Keksolymp?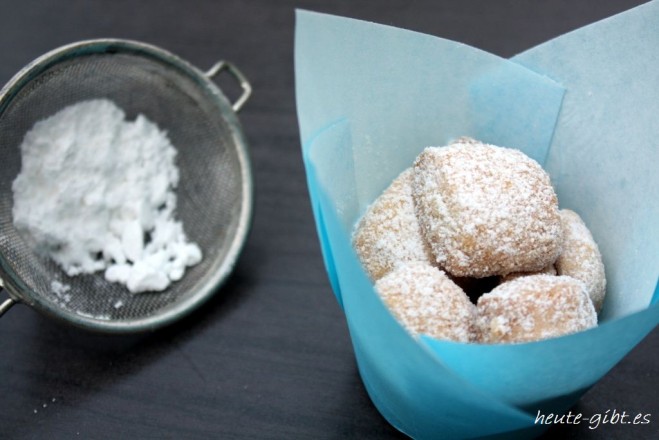 By the way you can the protein for this recipe use. If you have time to not equal, you can use it for up to 2 weeks to keep in a plastic box in the fridge or just freeze. Do not forget to make a note on the box, the amount of protein – it's then not really countable 😉 Frozen is protein for several months and can be after thawing – best in the refrigerator – even as fresh egg whites to icy snow.
Greetings
Elena