March 5th, 2015
Werbung
Produkttest: TYROLIT Messerschärfer
Dieses Produkt wurde mir kostenfrei zur Verfügung gestellt. Meine Meinung wird dadurch nicht beeinflusst.
Kochen zählt neben Backen zu meinen liebsten Hobbys. Dabei gehören Messer logischerweise zu den wichtigsten Utensilien. Seit einigen Jahren besitze ich ein Messerset, mit dem ich sehr zufrieden bin und das ab und zu durch besondere Messer ergänzt wird. Ich hege und pflege meine Messer so gut es geht, d.h. diese kommen nicht in die Spülmaschine und Lebensmittel werden nicht mit der Messerklinge sondern stets mit dem Messerrücken vom Schneidebrett in die Pfanne geschoben. Aber egal wie sehr man sich bemüht, irgendwann sind die Messer trotz jeglicher Zuwendung stumpf. So verzweifelt wie ich in diesen Momenten dann bin, versuche ich durch zusätzlichen Druck die Unschärfe zu kompensieren. Doch früher oder später kommt der Zeitpunkt, wo selbst die nicht mehr hilft und man keine andere Wahl hat als die Messer zu schärfen.
I have so tried several methods and devices with which you can grind his knife. In my kitchen drawer to find a sharpening steel, I me because apparently simple operation, for example, in a classic – in Cooking shows you constantly looks so professional chefs who handle it confidently – have gained. Unfortunately, I realized that this is not so easy going and practice of hand, I therefore potentially rather ruin my knife. Another sander from my stash, despite ease of use did not achieve the promised result. The best alternative was then far always made to let the knife professional.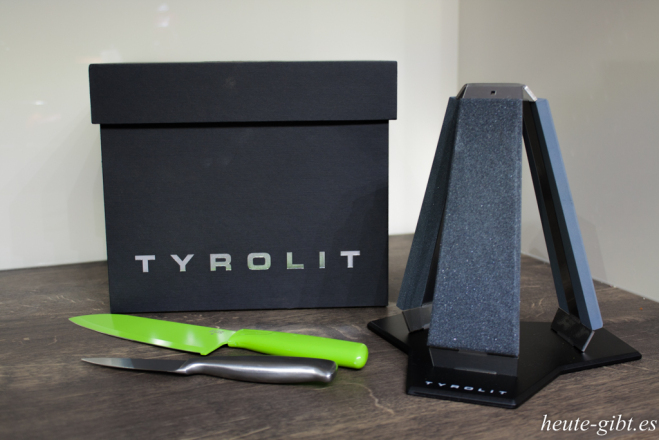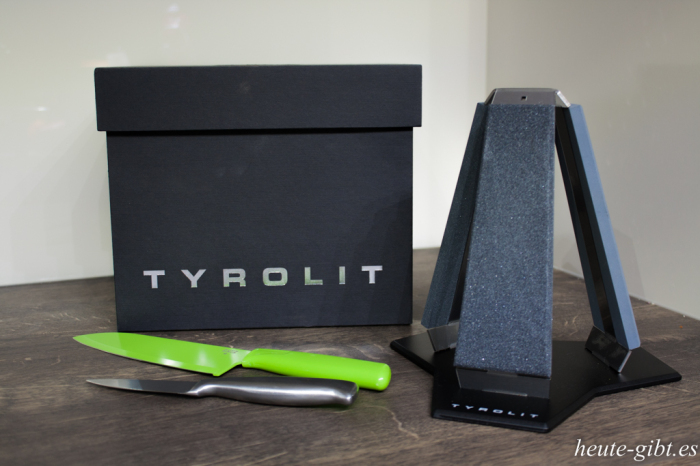 When I then late last year by the Tyrolean company TYROLIT received the request, if I want to test their knife sharpener, I was a bit skeptical zuächst. Again, a knife sharpener, which must be seen within my collection and ends up on my device cemetery? The company was by this time also unknown to me, a fact which ran be eliminated thanks to a brief search on the Internet. When I saw the stylish knife sharpener, I was immediately excited because this falls by its special design on equal – and I love such devices. Use sounded very simple according to the product description and so I decided to test the knife sharpener on the heart and kidneys.
Extracting the product (New Germany: "Unboxing" 😉) personally was a real highlight for me. I am admittedly a little "Packaging victims" and like to buy products that come along in a pretty package. The company TYROLIT has therefore equal dotted with me at the sight of the cardboard. Looking forward to the content I grabbed the knife sharpener and read me the good guidance of – after all, you do not want to do anything wrong from the beginning, yes.
Der Messerschärfer hat insgesamt drei Schleifsteine mit unterschiedlicher Körnung, die magnetisch an dem Gestell haften. Dadurch lassen sich diese sehr einfach entfernen und wieder anbringen. Dies ist vor jeder Benutzung notwendig, da die Schleifsteine dafür unter dem Wasserhahn befeuchtet werden müssen. Der korrekte Winkel der Steine ist bereits voreingestellt, sodass man das Messer lediglich an der Spitze des Schärfesteins im 90° Winkel ansetzen und in einem leichten Bogen nach unten ziehen muss. Durch diese Technik wird das Messer automatisch im für das Schleifen richtigen Winkel geführt, was besonders für Leute wie mich, die hiermit beim Verwenden des Wetzstahls ein Problem hatten, ein großer Vorteil ist. Da sich Beschreibungen oftmals schwerer lesen als sie letztendlich sind, könnt ihr euch das Ganze hier auf der Seite des Herstellers in einem Video can demonstrate with Johann Lafer.
I have the knife sharpener from TYROLIT now already in use and in that time I have all three grinding stones a few weeks – depending on the degree of wear of the blade – used several times. I am convinced of the performance of this product and find that thanks to the ease of use of each so easily should be able to sharpen his knife.
But it indicates the TYROLIT knife sharpener nothing to complain about? Two points are a little critical for me:
The knife sharpener is not easily pigeonholed, but requires quite a lot of space. Not everyone can or wants to put it on his countertop or has in which to store this closet.
The price of the knife sharpener is proud € 159,90. A sum that not everyone is willing to pay for this. However, one can justify this on the basis of quality and workmanship.
My personal conclusionWho often his knives and grind himself wants / needs and this does not want to run the risk of ruining the blade due to improper handling of the tool is well served with the TYROLIT knife sharpener well. Of course, ask the price and size of a certain hurdle, but who can cope with both receives a highly recommended product.
What experience could you have been collecting for knife grinding? Which method you swear?
Greetings
Elena