August 3rd, 2014
Vanilla redcurrant shortbreads – a guest post from "Kitchencloud"
Today would like to welcome my first guest during my announced summer break . I am glad to present you the lovely Nathalie and her blog "Kitchencloud" . There, the Rhinelander shows to her readers not only home baked goodies, but also tells of her life as a mom of a sweet daughter, who will get a little brother or sister, soon.
Nathalie stood in her kitchen and created something quite tasty for you. But now it's her turn, so here she goes:
For Elena's summer break I conceived a delicous little thing - convenient for travel, does not melt and still tasty like the summer!
Vanilla redcurrant shortbreads!
Of course it isn't a "typical" shortbread recipe but with vanilla and sour redcurrants it's just right for the summer time!
And off we go.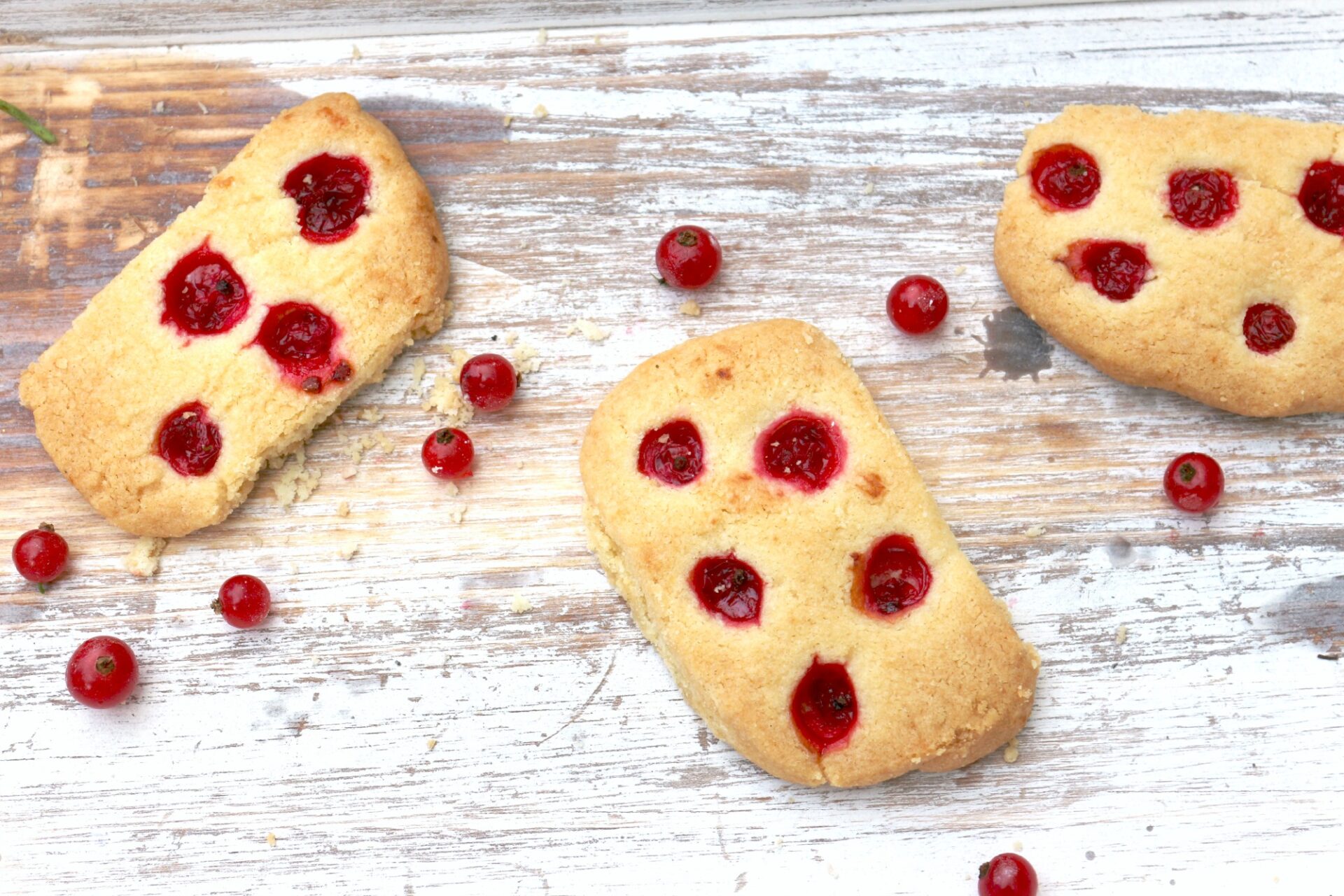 recipe
Vanilla redcurrant shortbreads
Total time
1h 30min
Vanilla redcurrant shortbreads
Ingredients

: (For about 15 pieces)
400g flour
250g butter
125g sugar
pinch of salt
A packet (15g) of vanilla sugar
The pulp of a vanilla pod
Three handful redcurrants
Preparation

:
Knead all ingredients except the currants with cool hands to a smooth dough and shape it into a rectangle. This should be about 4cm wide and just under 2cm high. (Regardless of length). Wrap ithe dough in cling film and put it into the fridge for an hour at least.
Wash the redcurrants well and then lay them on some kitchen paper, so that they are not too wet afterwards.
Now cut the dough into ½ cm thick slices and place them on a baking tray lined with some backing paper. With a toothpick gently "paint" small circles into the cookies and then gently push individual currants into the dough.
Bake the shortbreads for about 15-18 minutes at 190°C at top and bottom heat.
Well packed in a can they're good for about a week – given they survive that long!
Thank you Elena for letting me be your guest!
Love, Nathalie ♥
Dear Nathalie, thank you for your great contribution. look damn delicious from the shortbreads! I love the combination of sweet and sour, so they are fully meet my taste and therefore post-baked soon 🙂
Are you curious about Nathalie? Then render her a visit on her blog and leave her a nice greeting!
Have a nice Sunday
Elena
This post takes part in the series "Übern Tellerrand" :