January 26th, 2014
Vegetarian vegetable tart – even without meat a treat
A good Sunday to you all 🙂
It gives me great pleasure to welcome you again. I miss the days when I could surprise you several times a week with a delicious recipe. Although I've also tried it the last weeks, sorry – as you have probably noticed – without success. However, I am sure that this will change again. After all, everyone needs a little familiarization period, when a new life begins and changes things. Or how do you think?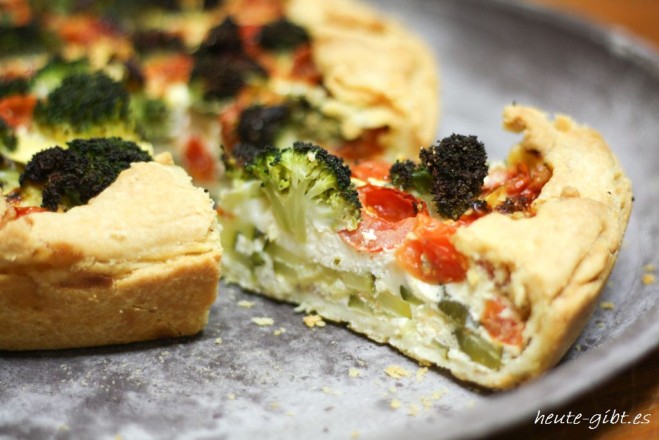 Today, there are now finally something delicious here on my blog. While it is not the finest way to praise his own things, but at today's court I can not just different. I'm a big fan of Pies and this certainly belongs here among the best I've eaten so far and although – or just because – it is completely vegetarian. Here no one will miss the meat, so much is guaranteed 😉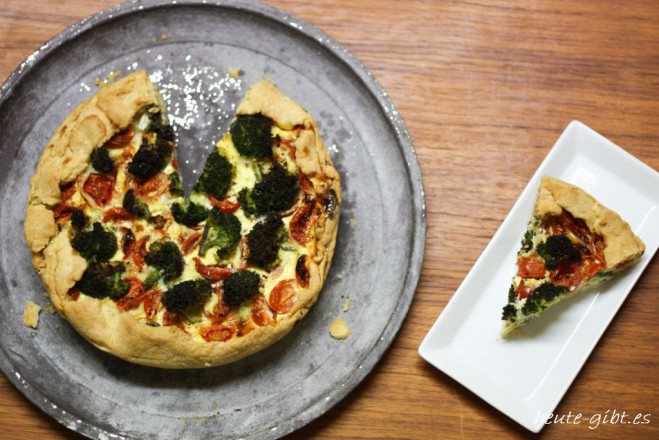 The recipe for this I have made the "EatSmarter!" (November / December 2013).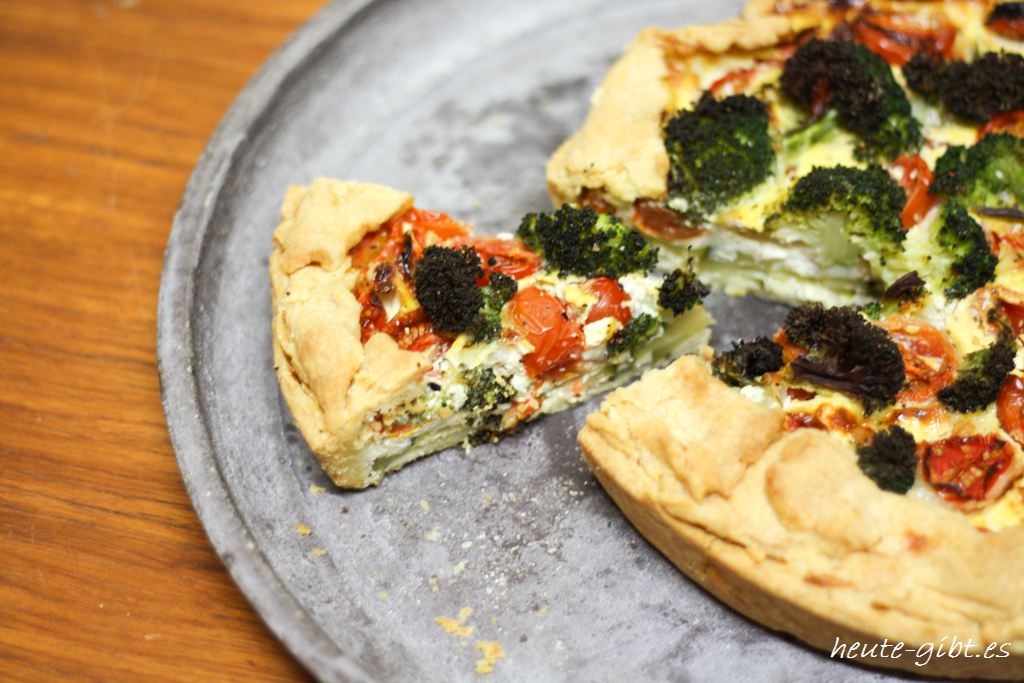 recipe
Vegetarian vegetable tart
Total time
1h 20min
Vegetarian vegetable tart
Ingredients

: (Tart tin, 22cm in diameter)
250g Mehl
3 eggs
160g weiche Butter
2 small zucchini
200g Cocktailtomaten
150g broccoli florets
200g saure Sahne
2 tablespoons whipping cream
150g goats cheese (Character)
Salt, pepper, nutmeg
a little butter to grease the dish
Preparation

:
Flour, one egg, butter and a pinch of salt knead to a smooth dough with the dough hook the mixing machine / food processor, with your hands into a ball and place it wrapped in plastic wrap for 30 minutes in the refrigerator.
Meanwhile, wash and clean zucchini, tomatoes and broccoli. Cut the zucchini into thin slices and halve the tomatoes. Blanch the broccoli in boiling salted water for two minutes, then remove, cold deter and drain well.
Beat the remaining two eggs with sour cream and whipped cream and season with salt, pepper and nutmeg.
The tart tin with butter. Put the dough on the floured surface roll out slightly larger than the shape and then lining it. It should protrude over the edge 2cm form dough.
Use a fork to prick the bottom several times and then pour the cream and egg mixture to this. Spread the zucchini slices evenly on it, give the sliced ​​goat cheese and tomatoes on it and sprinkle the broccoli florets to the end. The whole thing now season well with salt and pepper.
Finally, the excess dough crust to the center and turn the tart in a preheated oven at 160 ° C forced air (or 180 ° C top / bottom heat) until golden brown for 30-45 minutes.

Attention

: According to the original recipe, baking time is 25-30 minutes. For me, the tart was almost an hour in the oven. Keep your eye on so tart and adjusts the cooking time if necessary your oven an.Sobald is reached the desired degree of browning, remove the tart from the oven, allow to cool briefly and serve.
I must admit that I've several days fed from this tart and they brought, for example, to work. Many a colleague curiously looked in my Vesper box when I opened this and vegetable tart appeared. But now they can bake yourself and take it to the next lunch break them too. 😉
A beautiful "Rest Weekend" and until next time
Elena