December 15th, 2013
Vogelnestchen – nutty cookies with white core
Advent, Advent, the third light is burning… – Have a nice third Sunday of Advent to all!
While I just sit comfortably with my fellow bloggers and around Stuttgart at Christmas brunch, it's here on my blog continues with a prescription from my Christmas baking this year. This is currently running at full speed and there are several times a week any biscuits. This year, everything goes much faster and easier thanks to a great gift. What will not tell it here is exactly because for this I will publish its own contribution.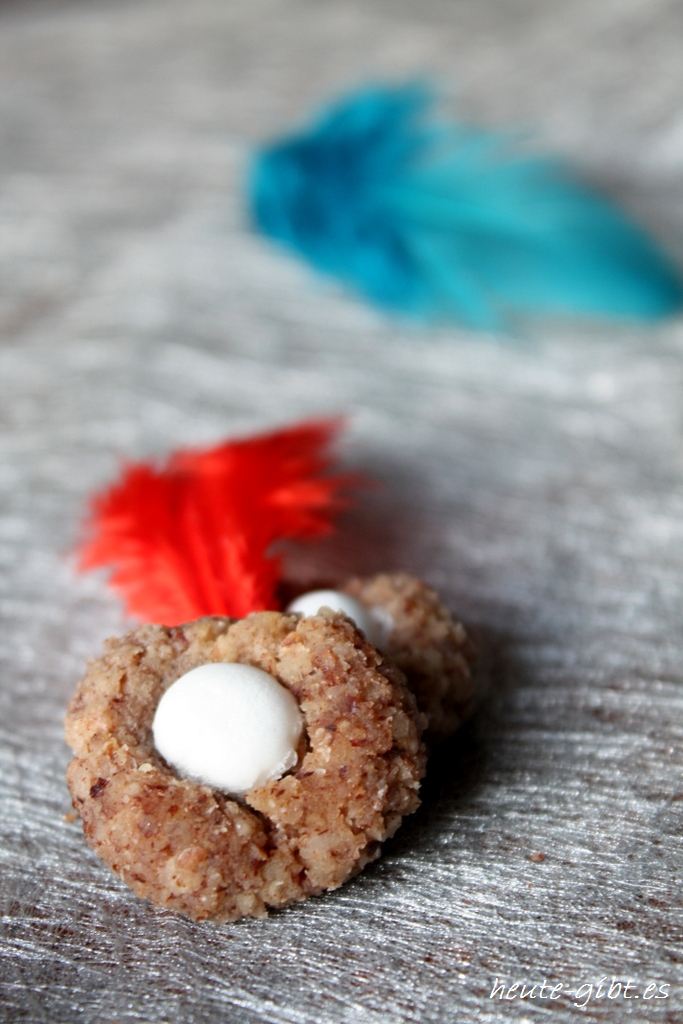 At today's recipe is not really typical Christmas cake and also the appearance, this can not suspect Nevertheless, they fit very good taste for Christmas baking what they owe one of my favorite spices: cinnamon. Of these cookies do not take our enthusiastic, but also my trading partner of "Post from my kitchen", She has namely also get a taste of this delicious nests and wanted to have the recipe.
Here it is:
recipe
Total time
1h 10min
Vogelnestchen
Ingredients

(For about 30 pieces)
2 egg whites
1 pinch salt
150g icing sugar
200g ground hazelnuts
1 tbs. cinnamon
Preparation

:
Protein and salt with an electric mixer until stiff.
The icing sugar in portions with stirring to give egg whites and then continue to stir for another minute.
50g of protein mass covered Set aside.
Uniformly raise the nuts and cinnamon with a whisk into the mixture.
Oven at 80 ° C (fan) Preheat.
With your hands about 2 cm large spheres form and place on a lined baking paper and then press a trough in each ball with your finger.
Tip: Since the nut mixture is very sticky, forming the balls works best with wet hands.
Finally, the protein mass is filled into the wells and baked the cookies on the bottom rack for 45 minutes using a pastry bag.
The Vogelnestchen are nice and juicy and remain so even if they are kept in a tin can. The vegetarians among you can be trusted with a clear conscience at this pastry 😉
Best wishes and a nice Sunday
Elena