December 10th, 2013
Wintry plum persimmon jam
After the recipe for my traumhafte Winterrolle have published, I would like today to equal late filing the recipe for the jam used to. This is a combination of plums and persimmons, flavored with Christmas spices. I eat both fruits like just so, but the idea to combine the two together in a jam I did not come. Just Kaki I've eaten only pure. Do you know all of this fruit at all? Or have you not yet rangetraut you?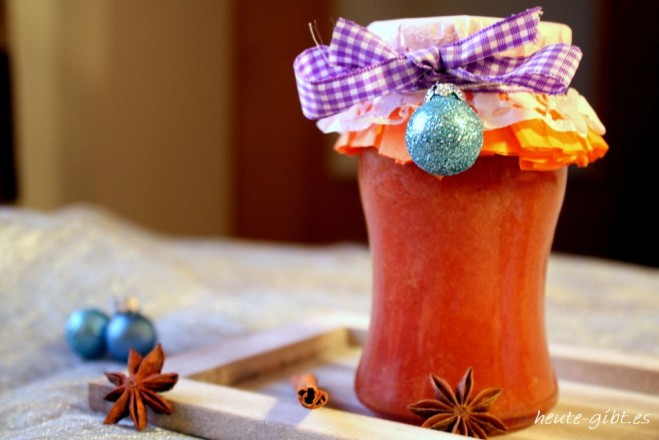 The original recipe comes from Karin von "Lisbeth's Cupcakes & Cookies", I have changed it a bit and found really delicious. The one or the other vial was already further away.
Unfortunately, I have today you any photos to it. This is because we are traveling to Sunday in Nuremberg and I still had to take pictures any time. But which will be submitted as soon as possible. A recipe without photo looks somehow always empty of 🙁 Still, I did not want to hide from you this so that you can already bake the delicious role.
This I did as you see can finally rescheduled 🙂
But now enough talk, here is my version of the recipe: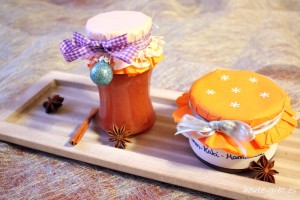 recipe
Wintry plum persimmon jam
Total time
35min
Wintry plum persimmon jam
Ingredients

:
500g reife Kaki
500g Pflaumen
500g gelling sugar 2:1
100ml plum or cherry juice
1 Zimtstange
3 Stern Anis
1 pinch of gingerbread spice
Preparation

:
Core fruit, if possible remove peel and cut into small pieces.
The juice of the fruit puree and cook with a hand blender.
Then add the pureed fruit through a sieve to remove any remaining shell or
The puree is then boiled together with the jam sugar, cinnamon stick, star anise and gingerbread spices in a pot.
As of this moment is for an additional 4 minutes – pay attention here on time! – the whole thing simmer while stirring to cool.
Then fill the jam into sterilized jars, set for 5-10 minutes on the head and then turn around again. In this case, the cooling takes the lid of the jar with a "Plop" bulge slightly inward.
Beautifully packaged, this jam is also wonderful as a gift, for example for Christmas. About this to less common variety, the gifted connoisseur should certainly be pleased.
Greetings
Elena