April 9th, 2017
Eggnog – Italian zabaglione
Italian cuisine has some classic desserts to offer, which unfortunately all too often forgotten. Most people there are always thinking of only Tiramisu or Panna cotta, Both desserts that are delicious, but take several hours due to the cooling times can be served to them.
Today I show you how a classic is prepared, which consists of only three ingredients and is finished in less than 30 minutes: zabaglione.
This is a zabaglione, which can be served either hot or cold. This tastes both pure for spoons or as a cream, for example, to a compote or ice. Traditionally, this dessert is prepared with Marsala, a fortified wine from Sicily. This normally found in the alcohol department of any well-stocked supermarket.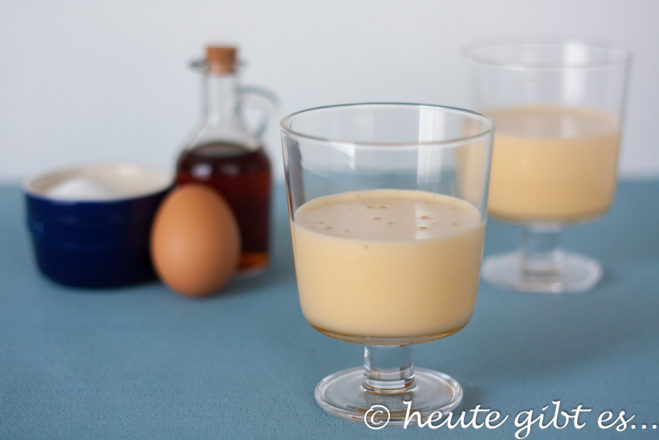 This dessert is very guarantee of success, if one considers the following points:
Because the cream is indeed warm during preparation, but never really hot, the eggs used should be absolutely fresh to eliminate the salmonella risk.
Place you can replace her this also by another alcohol no Marsala, wherein the characteristic taste of zabaglione is lost. What might come taste closest to the Sicilian fortified wine well, is a semi-dry sherry. Also popular are variations with Moscato or white port.
The water of the water bath must not boil at any time, but should only simmer! If this would in fact happen, lumps that can not be removed by further stirring form.
Although it can be very stressful, the constant stirring for the desired frothy consistency is very important. Although here but often a whisk is recommended, you can also use a hand mixer without problems.
The disadvantage of this dessert is probably that it must always be served the same. No prior preparation is not possible here because the cream falls otherwise collapse.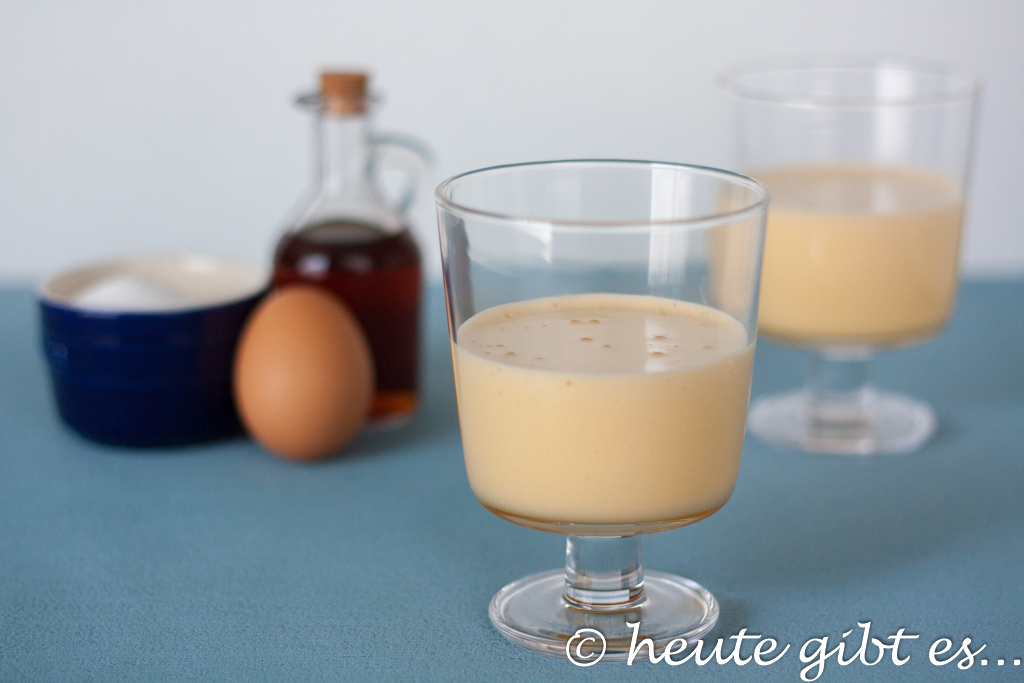 Eggnog
Ingredients

: (For 4 people)
8 fresh egg yolk
160g sugar
100ml Marsala
Preparation

:
in a stainless steel bowl that will be used later for a water bath, add the sugar and the egg yolks with a hand mixer or whisk to beat until a light, frothy cream.
Now add the Marsala, stirring in portions, so that a homogeneous cream.
Then the bowl set on a water bath. Be careful to ensure that the water is boiling but at no time are still simmering (just before the boiling point is). It is also important that the pot is so large that the bowl fits well and not risk that water gets into the cream.
Whip the cream for about 15 minutes of vigorous. The end result should have a velvety texture and the volume has doubled.
If you want to enjoy the zabaglione warm, it should be served after this step immediately.
in place otherwise the bowl with the cream in another bowl with ice water and cool completely while continuing to stir. This step is necessary so that the alcohol does not separate again from the egg-sugar mixture and the zabaglione does not lose a lot of volume, but nice frothy remains.
The zabaglione then fill the jars and serve immediately.
With the unused protein can be, for example, Financial cook or a glaze with which you can decorate cookies, such as, among others, I with my snowmen showed.
For spontaneous visit this Italian classic dessert is excellent, because you have the ingredients available in most cases and can vary with the alcohol in doubt too.
Have you ever tried zabaglione? How it tastes to you?
See you soon
Elena