March 4th, 2015
Zimtjoghurtcreme with apples and raisins – and an insight into my "Chaosleben"
Eigentlich sollte es schon gestern ein neues Rezept auf dem Blog geben. Und eigentlich sollte es etwas ganz anderes geben als das, was ich euch nun vorstelle. Aber manchmal kommt alles anders als geplant. Wobei ich das Gefühl habe, dass dieses "sometimes" with me is more often than the average.
Tuesday night – about 19 clock: I am sitting with my laptop on the bright red leather sofa in the living room.
Well, what can I say? The book is still not turned up and therefore you have to wait for the scheduled recipe somewhat. But I have a tasty alternative for you, one that is simple and above all prepare quickly: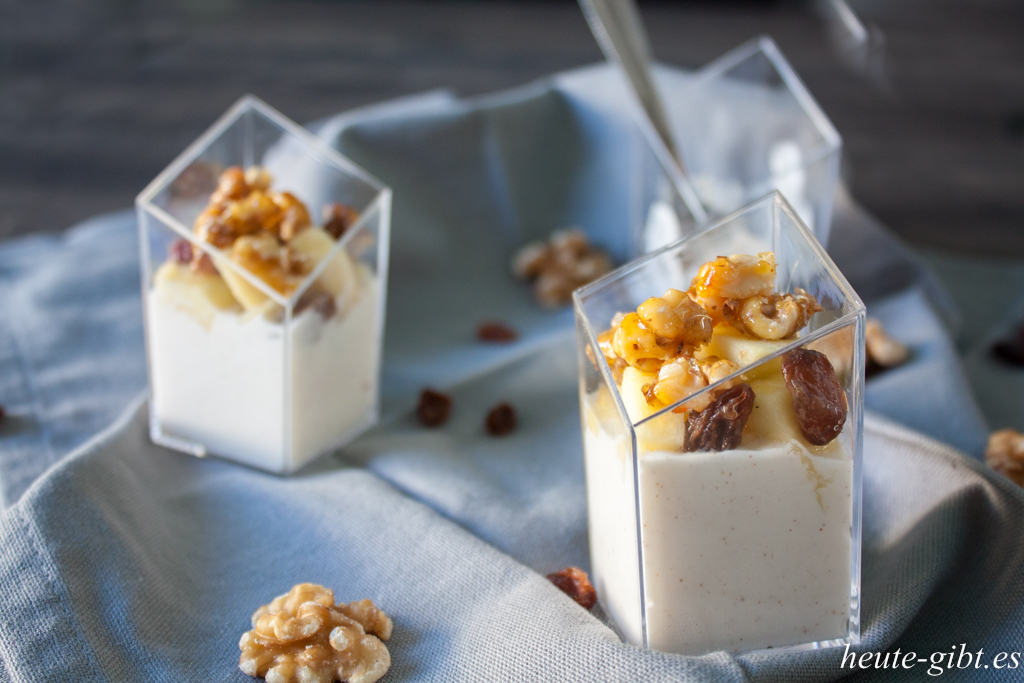 recipe
Zimtjoghurtcreme with apples and raisins
Total time
15min
Zimtjoghurtcreme with apples and raisins
Ingredients

: (For 4 people)
300g Naturjoghurt
2 pinches of cinnamon
2 tsp honey
100ml Sahne
40g raisins
Juice of one lemon
2 tart apples
50g walnuts
2 tablespoons sugar
4 pinches of sea salt
Preparation

:
Yogurt, cinnamon and honey mix.
The cream until stiff and fold into the yogurt mass.
Peel, dice and place the raisins in lemon juice apples.
Walnuts coarsely chop.
Caramelize at a low heat in a pan the sugar. Once it has reached the right color (golden yellow) add the walnuts and stir until they are evenly caramelize.


Attention

: The pan unattended under any circumstances!
The Zimtjoghurtcreme in bowls or glasses filled, distribute the slightly drained apple-raisin mixture on top and sprinkle with caramelised walnuts.
Hope I meet with this alternative your taste! According Zorra from Blog "Please 1x stir aka saucepan" should this dessert to be good for skin, intestine and bone due to the yogurt used. Together with the National Association of Bavarian dairy industry she is looking for recipes with sour milk products. As yet this fast dessert goes well with her blog event. For details, you can by clicking on the banner read:


I say goodbye and hope for a speedy recovery of my book. follow more info on this 😉
Greetings from the chaos
Elena