August 12th, 2013
Cinnamon rolls – not only in winter a pleasure
As a child I was eating what terms a bit difficult. There were so many things that I liked to go out of the way. But for us, there were clear rules at home: What was on the table was eaten. Several courts, depending on what the individual family members liked or did not like, there was not. At that time I was not thrilled them naturally – who eats because even like things that do not taste one?
Today, I am delighted by this measure education my parents really happy, because in comparison to before I actually like almost everything. I am what concerns food also become very experimental, which is expressed by different things:
I'll be very happy to foreign restaurants. In this case, my choice is not limited only to Greek or Chinese (Italian time I count not as an Italian "foreign" add 😉) but also like to go African, Vietnamese, Indian, etc. eat. Luckily my husband is just as open-minded as I in this regard 🙂
I also like to experiment at home with me not so familiar foods or foods known to wander into new dishes to (see my Brezel Cupcakes).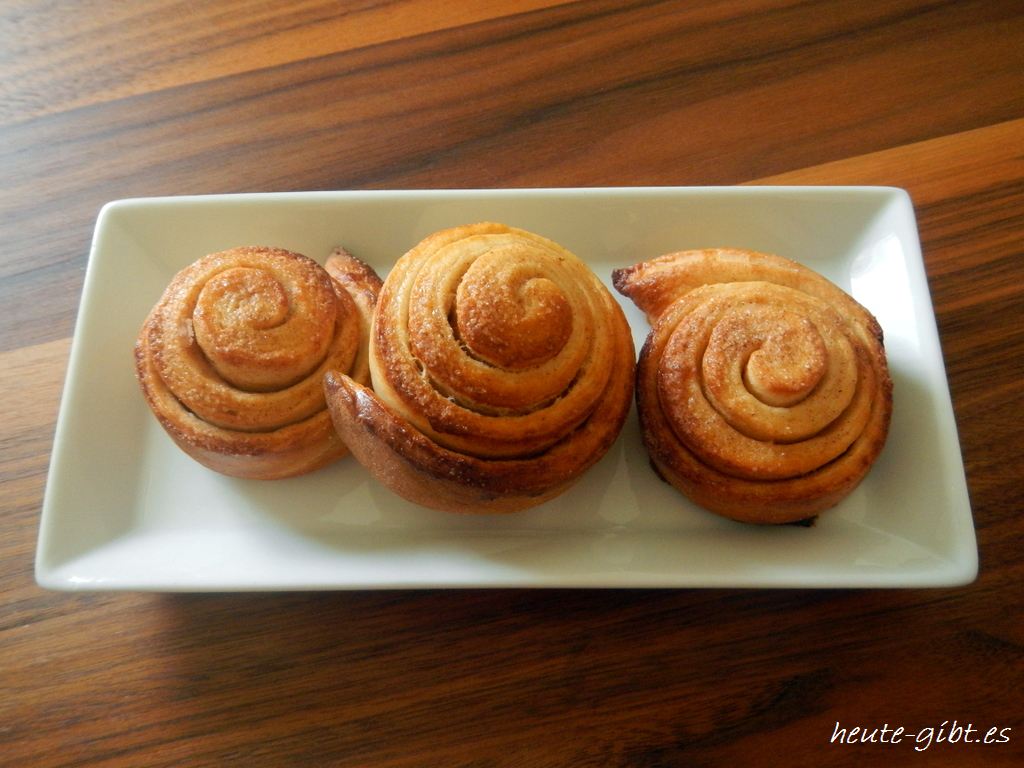 Over time, tastes change all know what is true for me in any case. A very good example is Cinnamon: I used to go this best out of the way. Especially at Christmas I thought it was bad, because everywhere stench smelled it with cinnamon. Dreadful! At least then, I have felt this way. I do not know when this has changed exactly, but now I love cinnamon. Both the smell and the taste, I now feel as positive and am already looking forward to Christmas 🙂
As I become so bad like cinnamon, I use it not only during the winter season, but all year round. I recently baked tasty treats with cinnamon which one or the other of you may have as my header Facebook– and Google -profile Noticed. Today there is a matching recipe from me: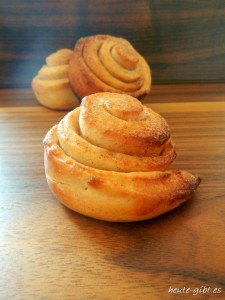 recipe
Total time
1h 45min
Cinnamon rolls
Ingredients

:
For the dough:
1kg flour
500ml Milch
150g Butter
1 cube of yeast
150g sugar
1 teaspoon cinnamon
1 teaspoon salt
For the filling:
100g sugar
75g Butter
1 tablespoon cinnamon
For the glaze:
Preparation

:
The butter with the milk in a saucepan to about 37 ° C heat. The yeast cube then dissolve it.
Add sugar, salt, cinnamon and flour in a bowl and stir in the heated butter mixture. The dough is kneaded so long now until it is no longer sticky, but it elastic. If you deems it necessary, adding more flour.
Cover the dough and let rise in a warm place for about 40 minutes.
After the rest period, the dough is kneaded again briefly on a floury work surface and divided into three parts. These are now being rolled out into thin rectangles, respectively.
Melt the butter for the filling in a pan and then sprinkle the dough with it.
Cinnamon and sugar (filling) Mix well and generously sprinkle on the dough.
Then the dough is rolled up and cut into approximately 1.5 cm slices.
Place the buns on a lined baking tray and leave to rest for another 30 minutes. Since this rise slightly during baking, you should leave enough space between each screw.
After the rest period, preheat the oven to 200 ° C.
Meanwhile Brush the screw with the beaten egg and cinnamon sugar (just a little cinnamon with a little sugar mix) sprinkle.
The whole thing is now for about 15 minutes in the oven. The baking time you can vary depending on the desired degree of browning of cinnamon rolls.
Allow to cool, serve, enjoy, finished 🙂
The great thing about this recipe is that you have not only something tasty after baking, but also your entire home smells great cinnamon. My sister, who has helped in baking, and I did not want then from the kitchen out 😉
And if you have a party or soon invited to a birthday you: This biscuits is just my opinion, but very good, because you can vary the size of the worm will.
Have fun baking
Elena
P. S. By the way, do I more recently, the editors of program Kitchen chat With. This is a food blog community where you can discover plenty of other delicious things. Check it out 🙂