March 21st, 2014
Lemon cupcakes
Have a great Friday, I wish you!
Today it is here with me quite springlike / summer, because there is a very citrus-heavy recipe. That I love lemons, I've been with my delicious Lemon role told. Whether freshly squeezed, as a cake or salad: the case of lemons I never say no!
Sure, I was immediately excited then, when I from the monthly series of Ursl Blog "Soap Kitchen Style" have learned: "1 in 3". Here, on three different blogs – one of which is the self of Ursl – on a particular topic, each posted a suitable recipe. This month's theme citrus.
I immediately had some ideas on this topic and could not at first decide on a citrus fruit. Finally, I chose lemon, because with this you can conjure both delicious entrees and irresistible desserts. Since Ursl had a dessert of me wished I opted for these lemon cupcakes.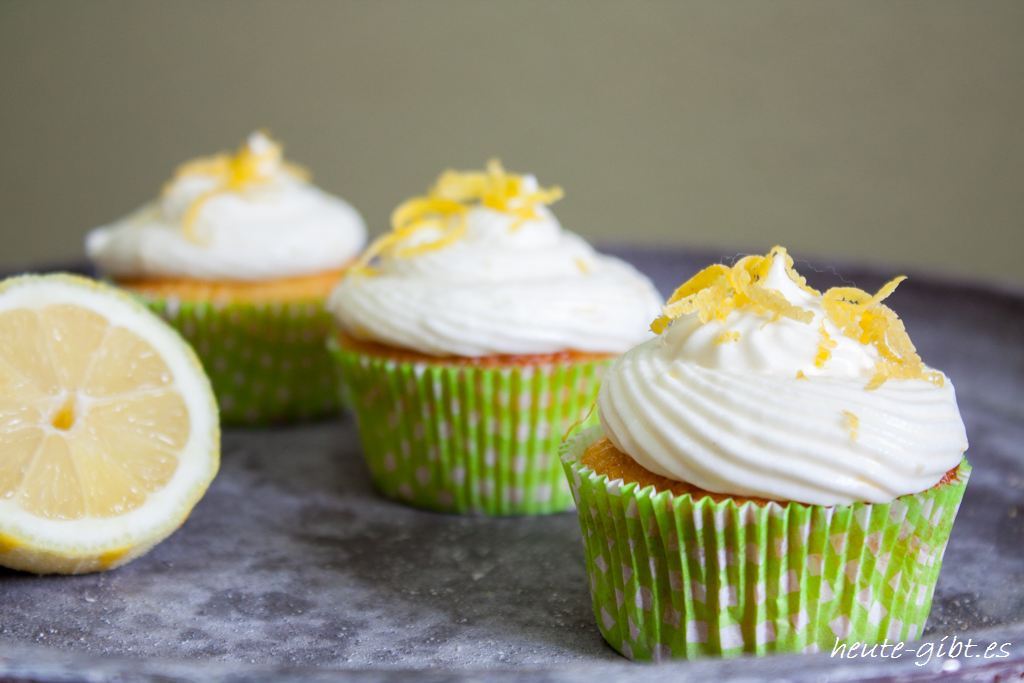 Lemon cupcakes
Ingredients

: (For 12 pieces)
For the Sponge:
120g flour
150g sugar
1 ½ TL Backpulver
grated lemon zest of 2 lemons
40g weiche Butter
120ml Milch
1 egg
For the Frosting:
375g icing sugar
120g soft Butter
grated lemon zest of 2 lemons
100g cream cheese
4 tbsp lemon juice
Preparation

:
Sponge:
Flour, sugar, baking powder, lemon zest and stir butter with an electric mixer until it reaches a sandy consistency at a low level.
Add the milk in portions and mix well.
Now add the egg and stir until a smooth paste is formed.
Spread the dough on 12 muffin cups at 170 ° C (fan oven) Bake in preheated oven for 20-25 minutes. (Stäbchenprobe!)
Then the cupcakes briefly in the baking pan and allow to cool on a wire rack.
Frosting:
Stir the ingredients for the frosting at least 5 minutes to form a uniform mass.
With a pastry bag to inject the frosting on the cooled cupcakes and decorate with lemon zest.
And, like a lemon cupcake? Or do you prefer another preferred citrus fruit? If you're curious to see what the others have citrus for delicious recipes cooked / baked, then quickly continue to Ursl:

A beautiful weekend
Elena