November 2nd, 2013
Zucchini Omelet-
Welcome to the November 🙂 The holiday season is already just around the corner. I am already looking forward to baking cookies, the Christmas decorations, the great Christmas markets – of us in Esslingen way, is highly recommended 😉 – and everything that goes with it.
So, now you probably think that there is now something Christmassy with me. There you but you made a mistake, because in my kitchen Christmas baking will have to wait a bit. Finally, there are so many great things that you can do with autumn vegetables. Well, zucchini I do not count, although the autumn vegetables, but it belongs to the gourd family, then fit it again with the season 😉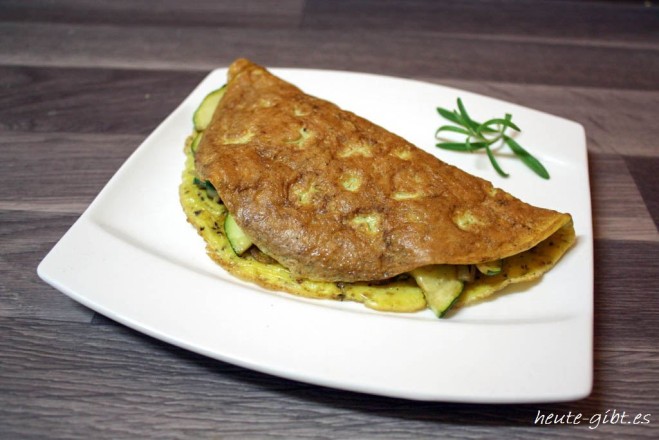 Today's recipe is actually quite fast, is nothing complicated and probably known to many. But it must necessarily be always unique and extravagant things on a blog? Personally, I thought: No, because often the simplest dishes taste but the best.
If you so some night you eliminate carbohydrates or you just sometimes feel like a delicious zucchini omelet you, here I have a recipe for you: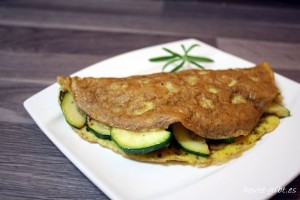 Zucchini Omelet-
Ingredients

: (für 1 Portion)
1 small onion
100g zucchini (courgettes)
15g Butter
2 eggs
1 sprig of fresh parsley
Salt, pepper, nutmeg
Preparation

:
Peel the onion,

Wash zucchini, both depending on the size

halved and cut into thin slices.
Put the butter in a large about 24cm, nonstick skillet and let melt completely.
The onion in the pan fry glassy, ​​add zucchini and brown slightly.
Season to taste Sprinkle with salt, pepper and nutmeg, then remove from the pan and keep warm for a short time.
Whisk the egg, the chopped parsley, mix well and season with salt and pepper.
Pour the egg mixture into the pan, stir briefly and covered over low heat something something can falter.


Important

: If you use the same pan as the vegetables, it is usually not necessary this re-greased. Should you have the impression that it is not enough or if you use a new pan, please leave yet Melt some fat in it.
Once the egg mixture a little hammered, but the surface is still wet, spread the vegetables on one half of the omelet and continue to fry without lid.

Fold the finished omelet fried before serving with a spatula and serve while still warm.
Since there is only one thing left to say: Let it taste you 🙂

All the best
Elena