August 14th, 2013
Zucchinitarte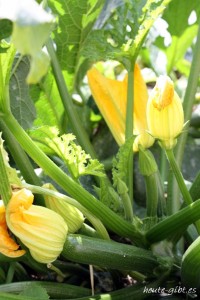 Since the end of April this year my husband and I moved from a three-room apartment in a small row house is. Compared to before, we have not only a larger living space, but at the same time both front and rear is a small garden. This is a relatively big change for me, because plants have not survived in my old apartment long. The lighting conditions were just not ideal for green living things, at least I hope it it and was not due to me.
Since neither my husband nor I are avid gardeners, our garden is more practical plan, or the front part looks thanks to the previous owner from properly maintained. Pretty flowers and trees, some grass and that was about it. A small herb garden and the one or other berry bush will surely be added over time even in the back. All we need to plant.
Quite different to my parents, who live next door in the house: my father likes to spend a lot
Time in his garden and is found in him of peaches, grapes, figs until the zucchini it all.
In the last week I have harvested quite a bit of raspberries, peaches, cucumbers and especially zucchini. This I use already busy in my kitchen or I'll use. Today I want to introduce a zucchini recipe. The vegetables I use Italian as often correct anyway, why ye dürft look forward to the many variations. But now walked in to my kitchen, because today there are: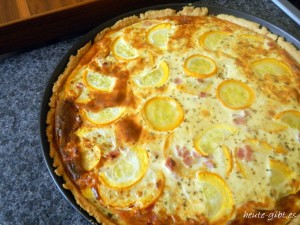 recipe
Total time
1h 40min
Zucchinitarte
Ingredients

:
225g Mehl
1 pinch salt
3 eggs
100g weiche Butter
600g zucchini (for me it was the yellow Vatiante)
250g lean bacon
2 Becher Crème fraîche
Salt and pepper
1EL Thymian
grated nutmeg
Preparation

:
The flour and a pinch of salt, an egg and the softened butter and knead to a smooth dough. This wrap in plastic wrap and place in the refrigerator for 30 minutes.
Meanwhile, cut the washed zucchini into thin slices. If the zucchini are large, you can advance them in half lengthwise.
Dice the bacon, fry together with the zucchini slices in a pan for about 5 minutes and allow to cool.
Now two-thirds of the cooled dough is rolled out on the floor of a greased springform pan. So press the remaining dough to the baking tin edge that approximately 3cm high edge arises. In this case, there must be no gap between the bottom and the edge.
With a fork, the soil is now repeatedly stabbed and then comes for 10 minutes at 175 ° C (fan) in the oven.
In the meantime, you place the remaining eggs, cream, salt, pepper and nutmeg to the zucchini and stir the whole thing.
The resulting mass is applied to the pre-baked dough and baked for an additional 40 minutes at the same temperature.
The tart is best enjoyed hot or lukewarm. Contrasting it certainly looks nicer when you both green and yellow zucchini used. Papa's garden but just had a huge yellow zucchini that had to be urgently harvested. The green then come in the next few days along with the rest of the yellow (yes, there is something left over!) Used.
I wish you now a good appetite and a relaxed Wednesday 🙂

Greetings from my little kitchen
Elena